Details and specifications on: Transparent Language - Aprenda English Now!, £49.50. A Spanish language package for learning English.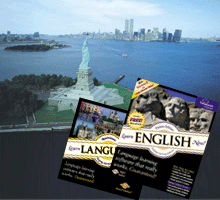 Transparent Language - Aprenda English Now!

Con EnglishNow!, usted aprenderá al sumergirse en el inglés. Usted participará en conversaciones auténticas, leerá artículos interesantes y mirará vídeos fascinantes de los Estados Unidos. Mientras usted se encuentra ocupado en esta rica experiencia de multimedios, puede que nunca se senta como si estuviera estudiando, y el hecho de que en realidad usted está usando el inglés se hace transparente.

Características
Más de 10.000 palabras
Cientos de frases útiles
Vídeo
Pronunciación completa de hablantes nativos
Grabe, escuche & compare
Análisis avanzado de la pronunciación
Sonido lento para oír cada matiz
Referencia del alfabeto
Práctica de la conversación
Dictado de las palabras
Referencia de gramática
Búsqueda de las palabras y sus raíces
Vocabulous!®, Crucigramas y más juegos interactivos
Video Unscramble
Cuestionarios en linea
Observación cuidadosa del progreso personal
¡Y mucho más
SCREENSHOTS


---
Use you back button to return to this page after viewing the screenshots.

Screenshots
REVIEWS


---
None available
VERSIONS


---
Transparent Language - Aprenda English Now!, £49.50
SYSTEM REQUIREMENTS


---
PC:
486 or higher microprocessor;
16 MB RAM;
Windows 95, 98 or NT 4.0; sound card;
25 MB disk space;
speakers,
VGA 256 color monitor;
2x CD-ROM drive.
Macintosh:
68020 or higher microprocessor;
4 MB RAM;
System 7.1 or higher; 12 MB disk space (17 MB recommended);
256 color monitor with at least 640 x 480 resolution,
2x CD-ROM drive.
PRICING


---
Transparent Language - Aprenda English Now!, £49.50


Prices include all applicable taxes

P&P will be charged at "light/heavy items" rates (1/2/3 or 3/6) - click here for full Postage & Delivery Details including shipping rates within the UK, Europe and worldwide, and next day before midday options.

Email to check latest pricing or stock availability

Check Exchange Rates to convert UK pricing or Email us with your country and/or currency for a quote.


ORDERING


---
Any questions prior to ordering? - Then Email: sales@bmsoftware.com

To order, use the online

If the online ORDER FORM fails for any reason or your product is not yet listed there, or you wish to print and send your order, then fill in the following, hit the Select details button, and copy and paste to your email program or word processor:

Now hit Ctrl+C to copy the selected text to your clipboard and then paste (Ctrl+V) it into your preferred program
CONTACT DETAILS


---
Click here for full Contact Details including postal address, additional phone lines and technical support email.

Whilst we are based in the UK we can ship most items internationally.


| | | | | | | | |
| --- | --- | --- | --- | --- | --- | --- | --- |
| | RETURN TO TOP OF PAGE | | CLOSE WINDOW | | PRINT PAGE | | HOME |