| | | |
| --- | --- | --- |
| | Avanquest UK Net Nanny Chat DVD | |
Details and specifications of Avanquest UK's Net Nanny Chat DVD, £29.00 (GBP inc VAT RRP £29.99). Net Nanny's Chat Monitor discretely monitors, filters and blocks popular chat and instant messaging programs. [Buy now] or call us on 0870 766 3699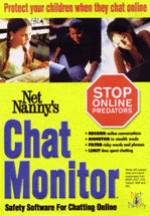 Avanquest UK
Net Nanny Chat DVD
Net Nanny's Chat Monitor discretely monitors, filters and blocks popular chat and instant messaging programs, notifies you when your child is in a potentially risky conversation, limits time spent online chatting and stops your child from giving out personal information.
Know exactly what your kids are saying online:
Records both sides of popular chat and instant messaging conversations.
Sends activity reports to you by e-mail, as often as every hour.
Reduce risk of exposure to online predators:
Prevents your child from giving out personal, identifying information and records any attempts to do so.
Immediate e-mail alert sent to you if children receive solicitous messages while chatting, such as, "do you like boys?" or "what r u wearing?"
Optional termination of the chat or instant messenger conversation.
Control time spent chatting:
Disables access to popular chat and instant messaging programs.
Schedules daily and weekly "no chat" time periods.
Easy to use and customisable:
Installs and sets up in only minutes.
Pre-set features can be easily customised to meet your unique needs.
Secure the software:
Protects settings and recordings with both a password and a hot key combination that you choose.
Optional stealth installation ensures the software is completely hidden from everyone except those with authorised access.


Manufacturer's Product Code: Our Product Ref: NNCDVD
SCREENSHOTS


---
None Available
REVIEWS


---
None available
SYSTEM REQUIREMENTS


---
Windows 98SE/Me/
2000Pro/XP
Yes
Pentium , 32MB RAM, 10MB HD space, internet (software supported: AOL 8/7, MSN 8, AOL chat, Yahoo! Chat, MSN Chat, IRC Chat, MSN Instant messenger, Windows Messenger, Yahoo! Instant Messenger, Yahoo! Web Messenger, AIM, AIM Express, ICQ IM Pro 2003a, ICQ Lite and ICQ2GO)
Apple MAC
N/A
Purchase Virtual PC first
Linux
N/A
VERSIONS, OPTIONS & ALTERNATIVES


---
| | | | | | |
| --- | --- | --- | --- | --- | --- |
| Avanquest UK | Net Nanny Chat DVD | £29.00 | (RRP £29.99) | [NNCDVD] | Buy |

Compare also:


PRICING


---
| | | | | | |
| --- | --- | --- | --- | --- | --- |
| Avanquest UK | Net Nanny Chat DVD | £29.00 | (RRP £29.99) | [NNCDVD] | Buy |

Also see alternative versions and products above

Prices are in £GBP and include all applicable taxes (VAT etc)

P&P will be charged at "light items" rates
(Some valuable items may have to go special delivery and packages may have outer packaging or inner boxing removed to save weight, if this is a gift or for resale please request intact boxes)

See our full Postage & Delivery Details including shipping rates within the UK, Europe and worldwide, first class and next day before 9 AM and 12 Noon, same day options.

Email to check latest pricing or stock availability

Check Exchange Rates to convert UK pricing or Email us with your country and/or currency for a quote.


ORDERING


---
Any questions prior to ordering? - then email: Sales or call us on 0870 766 3699, otherwise proceed to the Order Form.

If the online Order Form fails for any reason or your product is not yet listed there, or you wish to print and send your order, then fill in the following, hit the [Select details] button below, and copy and paste to your email program or word processor:

Now hit Ctrl+C to copy the selected text to your clipboard and then paste (Ctrl+V) it into your preferred Email program or click here to launch your Email editor.
CONTACT DETAILS


---
Click here for full Contact Details including postal address, additional phone lines and technical support email.

Whilst we are based in Norwich, Norfolk in the UK we can ship most items internationally.


RETURN TO
TOP OF PAGE

CLOSE
WINDOW

PRINT
PAGE

HOME
PAGE

TERMS AND
CONDITIONS

HELP ON USING
THIS SITE