Details and specifications of Copy Commander, £34.99 (GBP inc VAT). Easily transfer data from one Hard drive to another with this software, copy the entire drive or just certain partitions. [Buy now]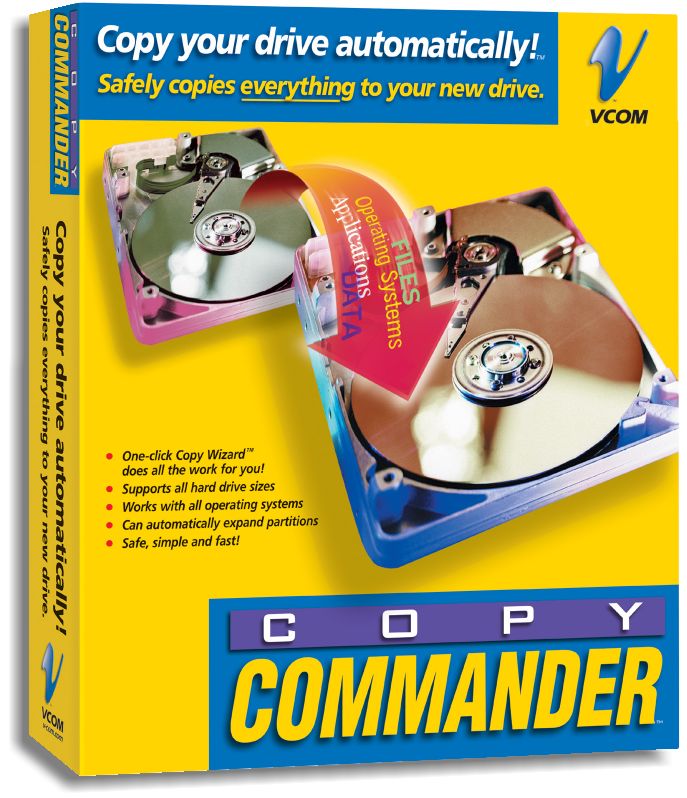 One click is all it takes to copy your old drive to your new drive. Copy Commander provides all of the tools necessary to copy drives or even individual partitions.

x Hard drive prices are dropping every day, and chances are that you are running out of space and the drive may be at the end of its life! With Copy Commander, upgrading to a new hard drive is safe, simple and fast.

Move all of your data to that new hard drive Copy Commander automatically transfers everything from your old hard drive to your new hard drive without missing any of your preferences, settings or data! There is no need to reinstall anything. And, with our Copy Wizard™, you can actually copy the contents of your old drive to your new drive with a single mouse-click. It's really that simple!

Great for quick backups What to do with that old drive? Why not use it for backups? And, if you use multiple partitions, you can copy individual partitions to the same drive or to any other drive installed in your PC. With Copy Commander's easy to use wizards, it's a snap to make a quick backup copy of your hard drive or individual partitions.

No installation necessary and supports all major OSes Copy Commander supports all PC operating systems and their file system. And, if you have multiple partitions, no problem, Copy Commander copies them for you and even gives you the option to have them proportionally expanded on your new disk. Copy Commander does not need to even be installed. Simply boot from the CD-ROM or have it create a boot floppy for you and you're on your way! Saves you time and money

Copy Commander more than makes up for its cost just in the amount of time and effort that it will save you. Normally, to upgrade to a new hard drive, you need to go through lengthy procedures that include backup procedures, OS installs, restore procedures and sometimes you still have to reinstall certain applications. You may even lose valuable work files. With Copy Commander, that doesn't happen. Simply use the wizard, click on the option and let Copy Commander do all of the work for you.

So, make your life easier. If you're upgrading to a new hard drive, then Copy Commander is the only easy to use, automatic solution for you.

SCREENSHOTS


---
None Available
REVIEWS


---
None available
VERSIONS


---
Copy Commander, £34.99, Buy

Compare also:

SYSTEM REQUIREMENTS


---
486/Pentium or better
Run directly from included boot diskette or run from included Bootable CDROM
16 MB RAM
VGA graphics
PRICING


---
Copy Commander, £34.99, Buy.


Prices are in £GBP and include all applicable taxes (VAT etc)

P&P will be charged at "light/heavy items" rates (1/2/3 or 3/6) - click here for full Postage & Delivery Details including shipping rates within the UK, Europe and worldwide, same day and next day before midday options.

Email to check latest pricing or stock availability

Check Exchange Rates to convert UK pricing or Email us with your country and/or currency for a quote.


ORDERING


---
Any questions prior to ordering? - then email: Sales, otherwise proceed to the Order Form.

If the online Order Form fails for any reason or your product is not yet listed there, or you wish to print and send your order, then fill in the following, hit the [Select details] button below, and copy and paste to your email program or word processor:

Now hit Ctrl+C to copy the selected text to your clipboard and then paste (Ctrl+V) it into your preferred Email program or click here to launch your Email editor.
CONTACT DETAILS


---
Click here for full Contact Details including postal address, additional phone lines and technical support email.

Whilst we are based in the UK we can ship most items internationally.


RETURN TO
TOP OF PAGE

CLOSE
WINDOW

PRINT
PAGE

HOME
PAGE

TERMS AND
CONDITIONS

HELP ON USING
THIS SITE