Details and specifications of Ready For Reading, £34.95. Introduces the basic principles of Hebrew grammar in a fresh new way that will make learning satisfying and pleasurable.. Buy Ready For Reading now.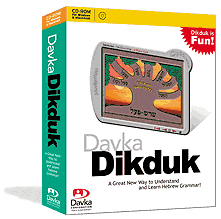 Chock-full of games, music, and sound educational instruction, Ready for Reading will take your child on a fun-filled ride through the levels of Hebrew reading, beginning with two-syllable words, and ending with reading of complete paragraphs. Along the way, your child will learn how to identify and recognize two, three, four, and five-syllable words. Each exercise contains enjoyable, entertaining games that will reinforce the concepts that have been taught, and will hold your child's interest. Ready for Reading includes: Entertaining, animated games and exercises Seven different types of Hebrew reading pronunciations, including modern Israeli Hebrew, Ashkenazic, and even Hassidic Hebrew pronunciation. Full printing capabilities of all screens and exercises On-line help for all exercises and games. Ready for Reading can provide the next step in your child's Hebrew reading comprehension. It is fun, educational, and a great value. For ages 6 and up.

SCREENSHOTS


---
Use you back button to return to this page after viewing the screenshots.

Screenshot 1 | Screenshot 2
REVIEWS


---
None available
VERSIONS


---
Ready For Reading, £34.95, Buy

Compare also:
Hooked on Hebrew - Hebrew World, £45.95
Euro Talk - Vocabulary Builder Hebrew, £14.99
Davka Learning to Read Hebrew, £39.95
Davka Dikduk, £49.95
Davka Modern Hebrew, £34.95
Transparent Language Learn Hebrew Now, £49.99
Talk Now! Learn Hebrew, £24.99
I Love Hebrew, £37.95
Language Learning Everyday Hebrew, £14.99

SYSTEM REQUIREMENTS


---
Windows PC
Yes

Windows 95/98/ME/2000/XP
32MB RAM
CD-ROM Drive
Sound Card

Apple MAC
N/A

Systyem 7.5.3 or higher
16 MB RAM
CD-ROM drive

Linux
N/A
PRICING


---
Ready For Reading, £34.95, Buy.


Prices include all applicable taxes

P&P will be charged at "light/heavy items" rates (1/2/3 or 3/6) - click here for full Postage & Delivery Details including shipping rates within the UK, Europe and worldwide, and next day before midday options.

Email to check latest pricing or stock availability

Check Exchange Rates to convert UK pricing or Email us with your country and/or currency for a quote.


ORDERING


---
Any questions prior to ordering? - then email: Sales, otherwise proceed to the Order Form.

If the online Order Form fails for any reason or your product is not yet listed there, or you wish to print and send your order, then fill in the following, hit the [Select details] button below, and copy and paste to your email program or word processor:

Now hit Ctrl+C to copy the selected text to your clipboard and then paste (Ctrl+V) it into your preferred program
CONTACT DETAILS


---
Click here for full Contact Details including postal address, additional phone lines and technical support email.

Whilst we are based in the UK we can ship most items internationally.


RETURN TO
TOP OF PAGE

CLOSE
WINDOW

PRINT
PAGE

HOME
PAGE

TERMS AND
CONDITIONS

HELP ON USING
THIS SITE