Details and specifications on:World Talk English, £29.99, Intermediate English learning software.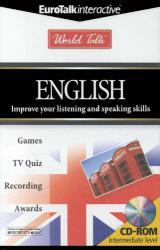 World Talk English Intermediate level for all ages.

Time to have some fun with English as a Second Language!!!

World Talk English includes lots of games and interaction to help ESL students develop communication, listening and speaking skills as well as problem-solving skills.

Ten terrific language games which will help you learn words, phrases and sentences by testing and practicing skills in a fun way.

Games include:
Lottery Numbers,
What Did You Say?
Sentence Building,
Out to Dinner
and more.
The Quickfire TV quiz will challenge you and your friends (to get those communication skills working!!!) or you can play against the computer.

The recording studio will give you confidence in speaking. You can take the part of an actor and record yourself speaking English. Guaranteed to be loads of fun and encouragement!

The dictation section provides six stories with which to practice diction & comprehension. Worksheets can be printed to give further activities. Award certificates can be printed.

SCREENSHOTS


---
None Available
REVIEWS


---
None available
VERSIONS


---
World Talk English
SYSTEM REQUIREMENTS


---
Windows Compatible.
Windows 95/98/2000/NT
486 Processor
16MB Ram
4X CD-ROM
100MB free HD space
16-bit PCI/AGP Graphics Card
16-bit DirectX compatible Sound Card with Speakers
Standard Keyboard & Mouse
256 Colour Monitor supporting high colour(16-bit) at 640x480 resolution
Microphone recommended


Apple Macintoch
OS Version 7.5.5 or higher
68040 PowerPC Processor
4xCD-ROM
16MB RAM.
100MB Free HD space
640x480 256 colour Graphics Card
Built in sound or sound manager
3.1 compatible sound card and speakers
256 Color Display
Microphone recommended
PRICING


---
World Talk English, £29.99


Prices include 17.5% VAT

Email to check latest pricing or stock availability

Check Exchange Rates to convert UK pricing
Postage, Packing & Insurance Rates
1
UK light items (2nd class)
£3 (GBP)
2
UK light items insured (1st class) Any orders over £100
Customers may choose this rate on light items under £100 to speed delivery
£6 (GBP)
3
UK heavy items parcelpost
UK light items next day guaranteed
Europe light items
£9 (GBP)
4
World surface mail
£12 (GBP)
5
Europe heavy items
£15 (GBP)
6
UK heavy items next day guaranteed
World airmail
£18 (GBP)
If you require the outer packaging of your order to be intact for a gift then please add this to any special instructions as normally excess weight is removed before despatch to increase chances of a standard letter box delivery, and thus not require you to wait in to receive your order. Minimum P&P on fully boxed orders is £6
Order direct from BMSoftware
ORDERING


---
Any questions prior to ordering? - Then Email: sales@bmsoftware.com

To order, use the online

If the online ORDER FORM fails for any reason or your product is not yet listed there, or you wish to print and send your order, then fill in the following, hit the Select details button, and copy and paste to your email program or word processor:

Now hit Ctrl+C to copy the selected text to your clipboard and then paste (Ctrl+V) it into your preferred program
CONTACT DETAILS


---
Click here for full Contact Details including postal address, additional phone lines and technical support email.

Whilst we are based in the UK we can ship most items internationally.


| | | | | | | | |
| --- | --- | --- | --- | --- | --- | --- | --- |
| | RETURN TO TOP OF PAGE | | CLOSE WINDOW | | PRINT PAGE | | HOME |