Details and specifications of Fix It Utilities 5, £39.95 (GBP inc VAT). Take your computer for a tune up, this piece of software can optimise your system and make it run more efficiently, Check on your hardware and prevent problems before they occur.. [Buy now]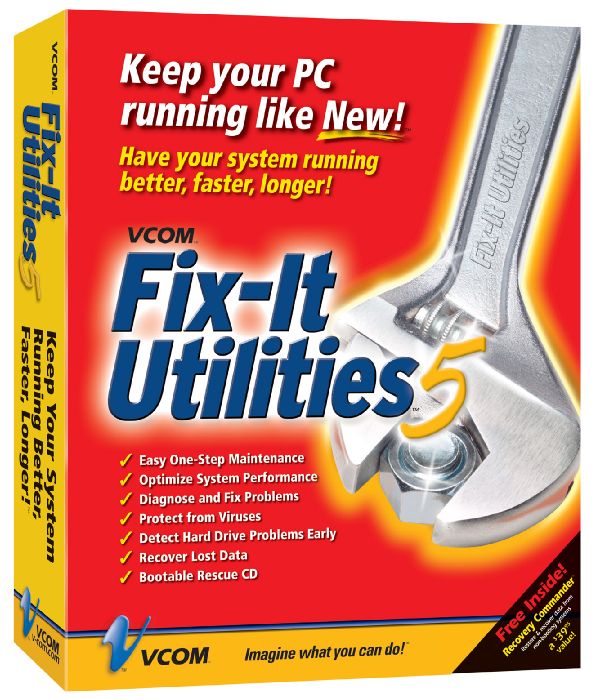 Diagnose Your System Problems

Fix-It Utilities includes powerful diagnostic tools to aid in finding problems with your system. SMARTCheck Hard Disk Failure Early Warning System notifies you when your SMART-compatible hard drive motor is having trouble, before the motor stops and your data is inaccessible. PCDiagnostics™ checks and reports on your installed system hardware including memory, hard drives, serial and parallel ports, video and sound cards, modems, and more! It pinpoints errors and identifies possible causes of trouble. SystemExplorer™ scans your system and provides a complete list of system statistics. SystemMonitors keeps an eye on your system resources and warns you when monitored resources reach critical levels. ErrorTracker logs all Windows errors messages to assist in troubleshooting system problems.

Launch Programs and Files Faster

There's nothing like a clean, well-organized disk drive to help your PC launch programs and files fast. DiskCleaner and DiskFixer can help you regain wasted disk space and repair problems on the drive's surface. JETDefrag™, the high-performance disk defragmenter, gives you a fast power tool that reorganizes your hard drive. It consolidates data so your programs and files aren't in pieces all over the drive. And the IntelliCluster technology ensures that your data is arranged on the drive the way YOU use it.

Quick and Easy FixWizards Do It All

Whether you need assistance or just prefer simple, one-step processes, FixWizards are the answer to your regular PC maintenance needs. Choose from the SpeedUp, CleanUp, or FixUp Wizard, or run the All-in-One Wizard to take care of everything automatically!

Emergency Fix and Rescue Tools

When your computer won't boot and you're unsure of the trouble, Fix-It tools help you solve the problem. Included is an Emergency Response Manual to easily guide you through the trouble-shooting process to fix and restore your system when it won't boot. The Fix-It Utilities CD is bootable and can also help you save data and restore corrupted computer files. Use Fix-It Utilities to get your PC up and running again.

Reliable Virus Protection

These days, viruses are everywhere. The Fix-It Utilities VirusScanner™ Pro helps protect your PC from a wide range of viruses. Plus, you are able to download the latest virus updates from the VCOM website 24 hours a day - providing you with the most current protection available - around the clock.

Customized Tool Installation

You have the control! You decide which tools to install and which to run in the background. If you change your mind later, you can easily go back and add or remove components.

Unbeatable Registry Cleaning!

SystemRegistry lets you fix, edit, clean and optimize your Windows Registry with the most comprehensive set of registry tools available today.

Retrieve Trashed Files

Whether you've accidentally deleted a file or you've been zapped by a virus, Fix-It Utilities can help. FileUndeleter allows you to search for and rescue accidentally deleted files. The Deleted Files Bin stores deleted files, even after they've been emptied out of the Recycle Bin. And the Crisis Center™ guides you through critical data recovery options.

Automatic Time Synchronization

The clock in your PC can drift and become inaccurate. ClockSync lets you easily and automatically synchronize your system's clock with a known, reliable and accurate Internet time source.

Free Bonuses!!!

PowerDesk® 5
The world's best file manager includes dual pane file management, a powerful file finder, zip and unzip capabilities, customizable toolbar, plus many other features!

Recovery Commander™
Quickly restore your non-booting system back to normal! Recovery Commander provides enhanced tracking and recovery features. It also includes an advanced data-offloading feature to save critical files to removable media such as CDR or USB flash drives without using Windows.


SCREENSHOTS


---
None Available
REVIEWS


---
None available
VERSIONS


---
Fix It Utilities 5, £39.95, Buy

Compare also:

SYSTEM REQUIREMENTS


---
Pentium or better
Windows 98/Me/NT/2000/XP
32 MB RAM, 64 MB recommended
35 MB free disk space
VGA graphics
Internet Explorer 5.01 or later for some features
PRICING


---
Fix It Utilities 5, £39.95, Buy.


Prices are in £GBP and include all applicable taxes (VAT etc)

P&P will be charged at "light/heavy items" rates (1/2/3 or 3/6) - click here for full Postage & Delivery Details including shipping rates within the UK, Europe and worldwide, same day and next day before midday options.

Email to check latest pricing or stock availability

Check Exchange Rates to convert UK pricing or Email us with your country and/or currency for a quote.


ORDERING


---
Any questions prior to ordering? - then email: Sales, otherwise proceed to the Order Form.

If the online Order Form fails for any reason or your product is not yet listed there, or you wish to print and send your order, then fill in the following, hit the [Select details] button below, and copy and paste to your email program or word processor:

Now hit Ctrl+C to copy the selected text to your clipboard and then paste (Ctrl+V) it into your preferred Email program or click here to launch your Email editor.
CONTACT DETAILS


---
Click here for full Contact Details including postal address, additional phone lines and technical support email.

Whilst we are based in the UK we can ship most items internationally.


RETURN TO
TOP OF PAGE

CLOSE
WINDOW

PRINT
PAGE

HOME
PAGE

TERMS AND
CONDITIONS

HELP ON USING
THIS SITE