Details and specifications on: Global Writer 3, £116.33. Start typing in Chinese, Japanese, Korean, Arabic, Persian, Hebrew, Indic, SE Asian, Central Asian, E/W/Central European, Cyrillic. Over 75 languages included, hundreds of fonts. Word Processor not a translation program.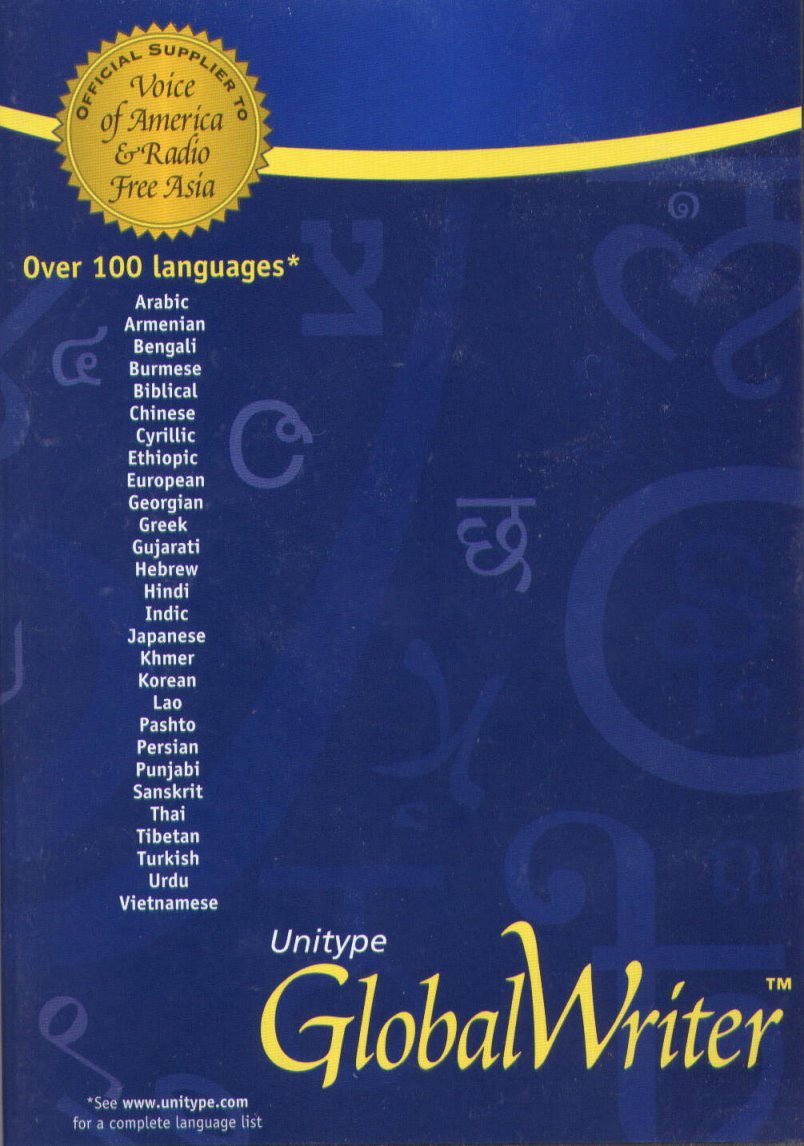 Global Writer 3
Start typing the world's languages in minutes with exclusive UniKey technology Developed in part for the US Information Agency and used by Voice of America and Radio Free Asia Complete. Nothing else to buy. Prior knowledge of foreign language typing not required. Chinese, Japanese, Korean, Arabic, Persian, Hebrew, Indic, SE Asian, Central Asian, E/W/Central European, Cyrillic and more. See complete list . 75+ languages included on CD ROM along with hundreds of fonts. Global WriterTM is a word processor that lets you express yourself in your own language.* It's so easy to use, you'll be typing letters, business documents, e-mail, school lessons and more in no time. And you can do all this without learning a new keyboard layout.
Global Writer's built-in and customizable Spell Checker and Thesaurus make typing in your language faster and more convenient than ever. Best of all, everything you need is on one CD-ROM.
*Global Writer does not automatically translate. You must know the language that you are typing. But you do not need to learn a new keyboard layout because we include special phonetic keyboards for each language based on US, French or German standard keyboards. We also include standard Windows based non-phonetic keyboards for those who prefer them.
FREE with Global Writer 98:
Spell Checker

Check documents in Western European, Russian and Arabic languages, or customize it for any language

Customizable Thesaurus

Create your own translation dictionaries in any language pair Start typing instantly
Familiar-looking menu bar makes it easy to start typing in minutes. Rich, high-quality scaleable TrueType fonts are included for each language.

Chinese, Japanese, and Korean support
Global Writer lets you easily type in Japanese, Chinese, Korean and more.

Right to Left support
Type left to right or right to left automatically, depending on the language

Work with your favorite applications
Easily cut and paste text into Microsoftr Office 97 documents (Limited to languages such as Chinese, Japanese, Korean, European, Greek, Cyrillic and Turkish.)

Pop Up Keyboard
Pop-up language keyboard gives you the option to type in your own language phonetically, without learning a new keyboard layout.

Email Support
Easily send and receive multi-lingual e-mail with Microsoftr Outlook (Receiver must also be using Global Writer)
Communicate easily in more than 100 languages!
Arabic scripts: Arabic, Persian, Dari, Urdu, Pashto, Kurdish
Central: Amharic, Armenian, Georgian, Tibetan
Chinese: Simplified (Pinyin, Cantonese, and Wubi input methods) and Traditional (Pinyin, Changjie, and Zhuyin input methods)
Cyrillic: Russian, Belorussian, Ukrainian, Uzbek, Bulgarian, Serbian, Macedonian, Kazakh, Kirgiz, Azerbaijani
European: West, East, Central, Scandinavian, Greek, Turkish and more
Indic (North): Hindi, Marathi, Nepali, Sanskrit, Punjabi, Gujarati, Bengali, Assamese
Indic (South): Tamil, Telugu, Maldivian, Kanarese, Malayalam, Sinhalese
Japanese: Roma-Kanji, Kana-Kanji
Korean: Hangul, Hanja
SE Asian: Thai, Vietnamese, Burmese, Lao, Khmer
Biblical and Academic: Coptic, Hebrew (Modern & Biblical), Yiddish, Greek (Ancient & Modern), Aramaic, Glagolitic, Moabite, Phoenician, South Arabian, Syriac, Ugaritic, International Phonetic Alphabet (IPA), Latin Transliteration, and more
Other: Ge'ez, Indonesian, Hausa, Inuktitut, Swahili, Tibetan, Tigrinian
SCREENSHOTS


---
Use you back button to return to this page after viewing the screenshots.

Screenshot 1 | Screenshot 2 | Screenshot 3
REVIEWS


---
None available
VERSIONS


---
Global Writer 3, £116.33

Compare also:
Global Writer 98, £99 OR Buy a Learn Language Now program for £49.99 and get it free! See any ofthe following language pages to learn more...

Learn Arabic Now
Learn Chinese Now
Learn Dutch Now
Learn French Now
Learn German Now
Learn Hebrew Now
Learn Latin Now
Learn Russian Now
Learn Spanish Now

Or go to the orderform where the complete list of available languages are to be found.
SYSTEM REQUIREMENTS


---
Windows 95/98, Windows NT 4.0, 2000 or XP
12 MB RAM
CD ROM Drive
Hard disk space varies, depending on language and number of fonts installed. Approximately 10 MB disk space is required per language. Chinese, Japanese, and Korean languages require approximately 50 MB of disk space each.
PRICING


---
Global Writer 3, £116.33, Buy.



Prices are in £GBP and include all applicable taxes (VAT etc)

P&P will be charged at "light/heavy items" rates (1/2/3 or 3/6) - click here for full Postage & Delivery Details including shipping rates within the UK, Europe and worldwide, same day and next day before midday options.

Email to check latest pricing or stock availability

Check Exchange Rates to convert UK pricing or Email us with your country and/or currency for a quote.


ORDERING


---
Any questions prior to ordering? - Then Email: sales@bmsoftware.com

To order, use the online

If the online ORDER FORM fails for any reason or your product is not yet listed there, or you wish to print and send your order, then fill in the following, hit the Select details button, and copy and paste to your email program or word processor:

Now hit Ctrl+C to copy the selected text to your clipboard and then paste (Ctrl+V) it into your preferred program
CONTACT DETAILS


---
Click here for full Contact Details including postal address, additional phone lines and technical support email.

Whilst we are based in the UK we can ship most items internationally.


| | | | | | | | |
| --- | --- | --- | --- | --- | --- | --- | --- |
| | RETURN TO TOP OF PAGE | | CLOSE WINDOW | | PRINT PAGE | | HOME |