| | | |
| --- | --- | --- |
| | Pretec CompactFlash WLAN, Wireless Network card | |
Pretec CompactFlash Wireless LAN card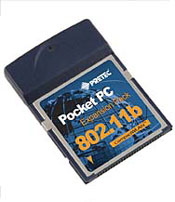 The Pretec CompactWLAN Type I CompactFlash Card conveniently connects your PDA, handheld or laptop to an existing wired or wireless network without cables or wires. In addition to the slim and lightweight Type I CF design, the Wireless CompactFlash Card also features secure data transfer and full privacy, exceptional range and data rate, and meets Wi-Fi certification standards for total interoperability with other 802.11b equipment. The CompactFlash Card is also specially engineered for compatibility with the Compaq iPAQ, Casio Cassiopeia, and the Sharp. Now you can stay connected anywhere anytime!
Wireless LAN card for Pocket PCs, Windows CE devices and Windows PCs with a CompactFlash slot or PC Card slot with adaptor
Supports both CompactFlash I and II card slots
802.11b standard
Plug and play with hot insertion and removal
Interoperable With All Wireless 802.11b Equipment
WiFi compliance allows interoperability with all major networking brands including 3Com, Cisco, Lucent, DLink, Linksys, Intel, Proxim and other 802.11b DSSS equipment manufacturers.

Secure Data Transfer and Full Privacy
Up to 128-bit WEP (Wired Equivalent Privacy) Encryption, Shared Key/Open System Authentication, Pass Phrase/Manual Coding operation, Key Management, and compatible with advanced user security software.

Designed for Windows CE, PocketPC, and PocketPC 2002
This CompactFlash Card is compatible with Windows CE 2.1 and 3.0 in various Pocket PCs, PDAs and other portable devices with a Type I CompactFlash slot. It is especially engineered for compatibility with the Compaq iPAQ, Casio Cassiopeia, and the Sharp Zaurus.

Flexible for Use in Many Settings
Works in Infrastructure, Ad-Hoc (Peer-to-Peer), and Roaming modes for optimum flexibility. In combination with the Pretec CompactWLAN and a wireless access point or access router, this CF Card is fully DSL/Cable Modem compatible.

Fast 11 Mbps Connection
11 Mbps data transfer rate with automatic fallback rates of 5.5 Mbps, 2 Mbps, & 1 Mbps supporting various distances up to 500m/1642 ft in open space environment.

Simple User-Friendly Setup
Includes Pretec's easy-to-use full-featured setup software, and configurable utility/security management tools guide users through a clear, simple, and easy-to-understand installation process.

Technical Data
Interface: CompactFlash-Type I
Standard: IEEE 802.11b
Chipset: Intersil Prism 2.5
Antenna: Internal
Power Consumption: Transmit: < 370mA; Receive: < 250mA; Standby: < 20mA
Dimensions: 58 x 42 x 3.3 (mm)
Weight: 60g
Operating Temperature: 0~+55°C
Storage Temperature: -20~+65°C
Data Transfer Rate: 11, 5.5, 2 & 1Mbps
Operating Range: 100 Meters
Output Power: 14dBm (Typ.), 16dBm (Max.)
Modulation: DSSS (Direct Sequence Spread Spectrum)
Frequency Band: ISM band/ 2.4~2.4835GHz
Operating Channels: North America: 11 channels (2.412~2.462GHz); Europe: 13 channels (2.412~2.472GHz); Japan: 14 channels (2.412~2.484GHz); France: 4 channels (2.457~2.472GHz); Spain: 2 channels (2.457~2.462GHz)
Secuirty: Data Encryption 128-bit WEP
Compatibility: IEEE: 802.11b Wi-Fi Compliant
Software Specifications: Supported Operation Systems Pocket PC/Pocket PC2002/WinCE3.0, Win98/ME/2000/XP, Linux
REVIEWS


---
None Available
PRICING & OPTIONS


---
Pretec CompactWLAN, £69
ORDERING


---
Any questions prior to ordering? - then email: Sales, otherwise proceed to the Order Form.

If the online Order Form fails for any reason or your product is not yet listed there, or you wish to print and send your order, then fill in the following, hit the [Select details] button, and copy and paste to your email program or word processor:

Now hit Ctrl+C to copy the selected text to your clipboard and then paste (Ctrl+V) it into your preferred program
CONTACT DETAILS


---
Click here for full Contact Details including postal address, additional phone lines and technical support email.

Whilst we are based in the UK we can ship most items internationally.


RETURN TO
TOP OF PAGE

CLOSE
WINDOW

PRINT
PAGE

HOME
PAGE

TERMS AND
CONDITIONS

HELP ON USING
THIS SITE