| | | |
| --- | --- | --- |
| | Saitek Slim Keyboard for the iPAQ | |
Saitek Slim Keyboard for the iPAQ
(Compaq iPAQ 3600, 3700 Series or 3800, 3900 Series)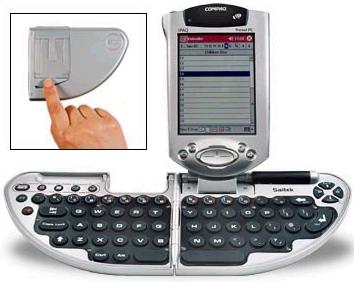 Features:
A very stylish, ergonomically designed keyboard that is easy to connect, and opens at a push of a button
Smaller, lighter, more compact and cheaper than most PDA keyboards on the market.
Full QWERTY keyboard
Folds into a sleek, compact case
PDA slots into place to connect
No batteries required
CD with drivers included
4 PDA standard buttons
PDA core function shortcuts
19 programmable keys
Short cut to international and number on screen keypads
D-Pad for enhanced
screen navigation
Compatible with:
iPAQ h3800; h3900; h5400
iPAQ h3100-h3700
(Will not work with iPAQs with Expansion Packs)
Specify iPAQ model in additional information at point of ordering.
REVIEWS


---
Maxim, Product of the Month
"These days, waving the latest Pocket PC about down your local won't even raise an interested eyebrow.what you really need are accessories... From its sleek, silver case emerges a full qwerty keyboard, complete with 19 programmable keys that turns your organiser into a portable office"

Stuff
It's the best-looking keyboard in town - or so the makers would like us to tell you. And we can't dispute that this slim silver sexpot will rarely, if ever, have to leave the disco alone - what with the way it folds up into a tiny package, it's every bit as functionally stylish as the iPaqs it's designed to partner.."
PRICING & OPTIONS


---
Saitek Slim Keyboard for the iPAQ, £39.99,
ORDERING


---
Any questions prior to ordering? - then email: Sales, otherwise proceed to the Order Form.

If the online Order Form fails for any reason or your product is not yet listed there, or you wish to print and send your order, then fill in the following, hit the [Select details] button, and copy and paste to your email program or word processor:

Now hit Ctrl+C to copy the selected text to your clipboard and then paste (Ctrl+V) it into your preferred program
CONTACT DETAILS


---
Click here for full Contact Details including postal address, additional phone lines and technical support email.

Whilst we are based in the UK we can ship most items internationally.


RETURN TO
TOP OF PAGE

CLOSE
WINDOW

PRINT
PAGE

HOME
PAGE

TERMS AND
CONDITIONS

HELP ON USING
THIS SITE