| | | |
| --- | --- | --- |
| | Targus Wireless IR Keyboard for the iPAQ | |
Targus Foldable Wireless Keyboard for iPAQ and other PDAs with InfraRed
(Compaq-HP 1900, 3600-3900, 2200, 5400 Series and later)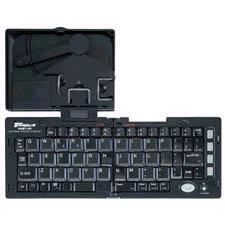 The Wireless IR (Infrared) Keyboard works with Palm and Pocket PC PDAs as well as Palm-based mobile phones and smart phones. You no longer have to juggle between different keyboards or worry about switching products because the Wireless IR Keyboard works with the world's most popular PDAs, PDA/Mobile Phones and Smart Phones. This product creates a direct link to your device through a 210-degree rotating Infrared arm (patent pending) ensuring you maintain constant connection with your devices. Requiring only 2 batteries and with low power consumption this sleek design allows you to conveniently type anywhere at anytime!


Full size, wireless infrared (IR) keyboard, that fits inside your pocket
Key spacing 18mm, Key travel 3mm
Dimensions: 28.5cm x 10.5cm x 1cm when open
Compatible with the most popular Palm & Pocket PC based PDAs, Smart Phones & Mobile Phones
Feels like a standard notebook keyboard
Battery powered, requiring no additional cables, ensuring user convenience
Lock button ensures the keyboard is kept flat at all times
Dedicated programmable hot keys for ease of use
Memory module holder and stylus pen well ensure a clean workspace
Snap-out guides hold the PDA securely
210° rotating IR arm (patent pending); direct link; no mirrors required, allowing constant connection at all times
Compatible with:
Compaq 1900, 38/39xx series, 5400 series and also the 2210 and 5500 series have been shown to work
HP Jornada
Dell Axim
Handspring Treo
Casio Casisiopeia EG-800STD, IT-705TD, E-200
Palm m100-m515, Tungsten W
Sony Clié SJ30, SJL10, T415, T665C
Toshiba e310, e330, e335, e740
Most other Palm and PocketPCs supported
REVIEWS


---
None Available
PRICING & OPTIONS


---
Targus Wireless IR Keyboard for the iPAQ, £69.00,
ORDERING


---
Any questions prior to ordering? - then email: Sales, otherwise proceed to the Order Form.

If the online Order Form fails for any reason or your product is not yet listed there, or you wish to print and send your order, then fill in the following, hit the [Select details] button, and copy and paste to your email program or word processor:

Now hit Ctrl+C to copy the selected text to your clipboard and then paste (Ctrl+V) it into your preferred program
CONTACT DETAILS


---
Click here for full Contact Details including postal address, additional phone lines and technical support email.

Whilst we are based in the UK we can ship most items internationally.


RETURN TO
TOP OF PAGE

CLOSE
WINDOW

PRINT
PAGE

HOME
PAGE

TERMS AND
CONDITIONS

HELP ON USING
THIS SITE