Details and specifications on: Hemera Photo Objects 25,000, £39.99. This item is no longer available. Instead consider Hemera Technologies Photo Obj 50k Volume 1, Hemera Technologies Photo Obj 50k Volume 2 or Hemera Technologies Photo Obj 50k Volume 3.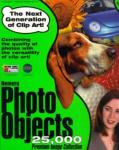 Hemera Photo Objects 25,000 - Premium Image Collection

25,000 royalty-free Photo-Objects in over 70 categories
Export Wizard allows you to export a Photo-Object to your favorite application
PhotoFont Maker enables you to create stunning photo-realistic text
100 textures to use with PhotoFont Maker
Search for a Hemera Photo-Object in an easy and intuitive fashion


WHAT YOU CAN AND CANNOT DO WITH HEMERA PHOTO-OBJECTS 5,000

You may incorporate any image(s) into your own original work and publish, display and distribute your work in any media. You may not resell, sublicense or otherwise make available the images(s) for use or distribution separately or detached from a product or web page. For example, the image(s) may be used as part of a web page design but may not be made available for downloading separately or in a format designed or intended for permanent storage or re-use by others.


SCREENSHOTS


---
None Available
REVIEWS


---
Use you back button to return to this page after viewing the reviews.

Reviews
VERSIONS


---
Hemera Photo Objects 25,000, £39.99

Also Available:

Hemera Photo Objects 5,000, £9.99
Hemera Photo Objects 10,000, £14.95
Hemera Photo Objects 50,000, £64.99


Compare with:
Focus 20,000 Photos, £9.99 - for photo images; with background included.
SYSTEM REQUIREMENTS


---
Compatible with:


486 processor (Pentium recommended)
Microsoft Windows 95, 98, or NT 4.0
8 MB RAM (16 MB recommended)
15 MB hard disk space
256-color graphics (65K or more recommended)
PRICING


---
Hemera Photo Objects 25,000, £39.99


Prices include 17.5% VAT

Email to check latest pricing or stock availability

Check Exchange Rates to convert UK pricing
Postage, Packing & Insurance Rates
1
UK light items (2nd class)
£3 (GBP)
2
UK light items insured (1st class) Any orders over £100
Customers may choose this rate on light items under £100 to speed delivery
£6 (GBP)
3
UK heavy items parcelpost
UK light items next day guaranteed
Europe light items
£9 (GBP)
4
World surface mail
£12 (GBP)
5
Europe heavy items
£15 (GBP)
6
UK heavy items next day guaranteed
World airmail
£18 (GBP)
If you require the outer packaging of your order to be intact for a gift then please add this to any special instructions as normally excess weight is removed before despatch to increase chances of a standard letter box delivery, and thus not require you to wait in to receive your order. Minimum P&P on fully boxed orders is £6
ORDERING


---
Any questions prior to ordering? - Then Email: sales@bmsoftware.com

To order, use the online

If the online ORDER FORM fails for any reason or your product is not yet listed there, or you wish to print and send your order, then fill in the following, hit the Select details button, and copy and paste to your email program or word processor:

Now hit Ctrl+C to copy the selected text to your clipboard and then paste (Ctrl+V) it into your preferred program
CONTACT DETAILS


---
Click here for full Contact Details including postal address, additional phone lines and technical support email.

Whilst we are based in the UK we can ship most items internationally.


| | | | | | | | |
| --- | --- | --- | --- | --- | --- | --- | --- |
| | RETURN TO TOP OF PAGE | | CLOSE WINDOW | | PRINT PAGE | | HOME |