Details and specifications on: IMSI Easy Language Deluxe Suite, £39.95. explore words and phrases in 17 languages or a more-in-depth immersion in French, German, English and Spanish.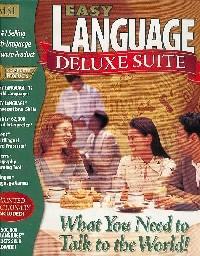 IMSI Easy Language Deluxe Suite - The most complete multi-language learning software available!

Easy Language Deluxe simply, contains everything you need to enjoy the world's languages. You can explore words and phrases in 17 languages or enjoy a more-in-depth immersion in French, German, English and Spanish. Learn geography lessons reinforce learning with games, and so more. Why it actually makes learning fun! So, bring the world home to you.

Easy language, 17 Language Edition - explore how the rest of world phrases. It's the ideal vocabulary enthusiasts alike.

Berlitz interpreter 62,000 word translator - pick a word and the Interpreter automatically shows you its complement in 4 different languages!

Perfect for: study, travel, international business, beginning language learning, sharpening language skills, Internet exploration.

Easy Language, Conversational Skills - When you want more in-depth language learning, in French, German, Spanish, and English this is the program for you!

Content:


25,000 words & 2,250 phrases in 17 languages
Basic grammar & pronunciation in 17 languages
In-depth instruction in the 4 core world languages
Games lessons & interactive teaching guides
Accent multilingual word processor worth more than £35!
Berlitz interpreter word translator
Best-selling multilingual vocabulary builder
Multimedia & photo tours
Link to travelocity website
Voice print pronunciation comparisons
Seterrs geography learning tool
Selingua language games
SCREENSHOTS


---
None Available
REVIEWS


---
None available
VERSIONS


---
IMSI Easy Language Deluxe Suite, £39.95

Compare also:
IMSI Easy Language Conversational Skills, £19.95
IMSI Easy Language 25 language edition, £29.95
SYSTEM REQUIREMENTS


---
Windows: PC 486SX, Windows 3.1x or Windows 95/98, 8MB RAM available, 2MB minimum Hard Disk, 2x or faster CD-ROM or higher, VGA Monitor with 256 colors, MPC compatible sound card and speakers, microphone, speakers, mouse, modem and web browser for Internet feature.

Macintosh; Macintosh System 7.1 or higher, 13" color monitor with 256 colors or higher, 8MB RAM, 3MB of hard disk space, 2x CD ROM Drive or higher, microphone, mouse modem and web browser for Internet feature.
PRICING


---
IMSI Easy Language Deluxe Suite, £39.95 Email to check latest pricing or stock availability

Check Exchange Rates to convert UK pricing
Postage, Packing & Insurance Rates
1
UK light items (2nd class)
£3 (GBP)
2
UK light items insured (1st class) Any orders over £100
Customers may choose this rate on light items under £100 to speed delivery
£6 (GBP)
3
UK heavy items parcelpost
UK light items next day guaranteed
Europe light items
£9 (GBP)
4
World surface mail
£12 (GBP)
5
Europe heavy items
£15 (GBP)
6
UK heavy items next day guaranteed
World airmail
£18 (GBP)
If you require the outer packaging of your order to be intact for a gift then please add this to any special instructions as normally excess weight is removed before despatch to increase chances of a standard letter box delivery, and thus not require you to wait in to receive your order. Minimum P&P on fully boxed orders is £6
Order direct from BMSoftware
ORDERING


---
Any questions prior to ordering? - Then Email: sales@bmsoftware.com

To order, use the online

If the online ORDER FORM fails for any reason or your product is not yet listed there, or you wish to print and send your order, then fill in the following, hit the Select details button, and copy and paste to your email program or word processor:

Now hit Ctrl+C to copy the selected text to your clipboard and then paste (Ctrl+V) it into your preferred program
CONTACT DETAILS


---
Click here for full Contact Details including postal address, additional phone lines and technical support email.

Whilst we are based in the UK we can ship most items internationally.


| | | | | | | | |
| --- | --- | --- | --- | --- | --- | --- | --- |
| | RETURN TO TOP OF PAGE | | CLOSE WINDOW | | PRINT PAGE | | HOME |