| | | |
| --- | --- | --- |
| | LapLink Gold V.11 (with cable) | |
Details and specifications of LapLink Gold V.11 (with cable), £70 (RRP £89.99). Synchronise files, control, operate and even re-boot your PC by remote control! An excellent product for the home user or professional.. Buy LapLink Gold V.11 (with cable) now.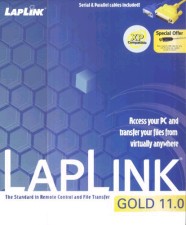 LapLink Gold 11.0 is the latest release of a robust all-in-one communication solution. It gives you the ease of quick access to a desktop PC to tap into all of your network resources. Access files; synchronize data between PCs; run database applications; operate, maintain and even reboot PCs or servers you can do it all remotely with this single application! Whether you're a mobile professional or an office-based IT professional, LapLink Gold 11.0 offers you the flexibility to work the way that best fits your needs.

This latest release continues to raise the standard for PC-to-PC connectivity including enhanced Internet functionality; ultra-fast, always safe file transfers; security levels you control and convenient compatibility with any Windows PC including Microsoft's newest operating system, Windows XP. It will give you a level of mobility, independence and control you may have never thought possible.

Full Spectrum Windows Compatibility
Effortlessly work across varied Windows environments with support for Windows 95, 98, NT 4.0, 2000,Me, and XP.

Take advantage of the World's Largest Network
LapLink Gold 11.0 ensures an easy, safe and reliable way to connect to your office or other remote computers to run any desktop application. Connection options include the Internet, TCP/IP or IPX networks, Dial-up Networking, Virtual Private Networks (VPN) and modem-to-modem.

Security to Safeguard Your Data
Control access to your PC's drives and folders with Folder-Level Security. Protect your data during transmissions with Multi-Level Encryption (including Microsoft's CryptoAPI support). Thwart repeated attempts to guess your password with Case-Sensitive Passwords and Lockout Protection. Use our Address Book to build an Access Control List for those with permission to access your PC.

Use the Included Cables to Create a Personal Area Network
You'll find two cables already inside the box! Try the LapLink serial cable for file transfer speeds up to 0.4 Mbps between Windows XP, Me, 2000, 98, 95, and NT 4.0 PCs. And rely on the LapLink parallel cable for transfer speeds up to 0.7 Mbps for Windows Me, 98, and 95 PCs. Use our optional high-speed LapLink USB Network cable for fast file transfers up to 5 Mbps between Windows XP, Me, 2000, and 98 PCs.

Speedy File Transfers and Updates
Enjoy lightning-fast transfers of any file type with our patented SpeedSync technology that transmits just the updated portion of files. Boost your productivity: Schedule automatic, unattended file transfers and connections to an ISP, and use SmartXchange to instantly synchronize multiple folders without complex scripting.

Support Users Without Leaving Your Desk
Effortlessly manage remote users or servers and trim your interoffice, cross-town or cross-country travel with LapLink Gold 11.0. Use our intuitive remote control cap-ability to operate, maintain, reconfigure and even reboot PCs and servers at a distance. You can even use the same connection for Text or Voice Chat while you're at it.

Conveniently Access Network Resources
Tap into network resources by using a remote control connection to a networked PC. Access all of a PC's local and network drives with a simple file transfer connection. Print items stored on your home PC on your office printer, or vice versa, with two-way print redirection. Use the optional LapLink USB Network cable to access network resources when connected to a networked PC without a network interface card.

SCREENSHOTS


---
None Available
REVIEWS


---
None available
VERSIONS


---
LapLink Gold V.11 (with cable), £70 (RRP £89.99), Buy

Compare also:

SYSTEM REQUIREMENTS


---
Windows 95, 98, NT 4.0, 2000, Me or XP
486DX 100 MHz or faster processor
16MB RAM
25MB of free hard disk space
PRICING


---
LapLink Gold V.11 (with cable), £70 (RRP £89.99), Buy.


Prices include all applicable taxes

P&P will be charged at "light/heavy items" rates (1/2/3 or 3/6) - click here for full Postage & Delivery Details including shipping rates within the UK, Europe and worldwide, same day and next day before midday options.

Email to check latest pricing or stock availability

Check Exchange Rates to convert UK pricing or Email us with your country and/or currency for a quote.


ORDERING


---
Any questions prior to ordering? - then email: Sales, otherwise proceed to the Order Form.

If the online Order Form fails for any reason or your product is not yet listed there, or you wish to print and send your order, then fill in the following, hit the [Select details] button below, and copy and paste to your email program or word processor:

Now hit Ctrl+C to copy the selected text to your clipboard and then paste (Ctrl+V) it into your preferred program
CONTACT DETAILS


---
Click here for full Contact Details including postal address, additional phone lines and technical support email.

Whilst we are based in the UK we can ship most items internationally.


RETURN TO
TOP OF PAGE

CLOSE
WINDOW

PRINT
PAGE

HOME
PAGE

TERMS AND
CONDITIONS

HELP ON USING
THIS SITE