| | | |
| --- | --- | --- |
| | SATS National Tests English Key Stage 1 | |
Details and specifications of SATS National Tests English Key Stage 1 , £9.99. Give your child's education a boost with this multimedia title full of animation, audio and text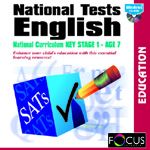 SATS National Tests English Key Stage 1
Give your child's education a boost with this multimedia title full of animation, audio and text. This highly influential CD ROM will help your child become familiar with the types of questions that they are likely to face in the compulsory school tests at the end of Key Stage 1 in English.

Interactive practice questions cover the programmes of study as required by the National Curriculum including topics such as: spelling, comprehension, rearranging sentences, rhyming words, picture comprehension, phonics, word recognition and sentence completion.


Developed in the UK to support KS1 of the National Curriculum requirements in English
Designed to encourage parents and children to work together educationally in the environment of their own home.
Randomly selected questions are derived from a bank of over 400 questions written by top educationalists.
Allows your child to monitor their progress over a period of time in the form of a visual bar chart.
Presented in a fun interactive format.
Builds your child's confidence.
Give your child a helping hand on the learning curve to success!
SCREENSHOTS


---
None Available
REVIEWS


---
None available
VERSIONS


---
SATS National Tests English Key Stage 1 , £9.99

Compare also:

SYSTEM REQUIREMENTS


---
Windows 3.1x or Windows 95.
486DX2 66MHz processor or faster.
2MB free hard disk space.
8MB RAM.
16 Bit SoundBlaster or 100% compatible soundcard
dual speed CD-ROM drive
PRICING


---
SATS National Tests English Key Stage 1 , £9.99


Prices include all applicable taxes

P&P will be charged at "light/heavy items" rates (1/2/3 etc 3/5/6) - see below

Email to check latest pricing or stock availability

Check Exchange Rates to convert UK pricing
Postage, Packing & Insurance Rates
1
UK light items (2nd class)
£3 (GBP)
2
UK light items insured (1st class) Any orders over £100
Customers may choose this rate on light items under £100 to speed delivery
£6 (GBP)
3
UK heavy items parcelpost
UK light items next day guaranteed
Europe light items
£9 (GBP)
4
World surface mail
£12 (GBP)
5
Europe heavy items
£15 (GBP)
6
UK heavy items next day guaranteed
World airmail
£18 (GBP)
If you require the outer packaging of your order to be intact for a gift then please add this to any special instructions as normally excess weight is removed before despatch to increase chances of a standard letter box delivery, and thus not require you to wait in to receive your order. Minimum P&P on fully boxed orders is £6
ORDERING


---
Any questions prior to ordering? - Then email: sales@bmsoftware.com.

To order, use the online

If the online [Order Form] fails for any reason or your product is not yet listed there, or you wish to print and send your order, then fill in the following, hit the [Select details] button, and copy and paste to your email program or word processor:

Now hit Ctrl+C to copy the selected text to your clipboard and then paste (Ctrl+V) it into your preferred program Make sure you read our Terms and Conditions.
CONTACT DETAILS


---
Click here for full Contact Details including postal address, additional phone lines and technical support email.

Whilst we are based in the UK we can ship most items internationally.


| | | | | | | | |
| --- | --- | --- | --- | --- | --- | --- | --- |
| | RETURN TO TOP OF PAGE | | CLOSE WINDOW | | PRINT PAGE | | HOME |