Details and specifications on: Norton SystemWorks 2002, £59.95 or less. Industry standard powerful automated antivirus checker, system optimizer, cleaning & recovery.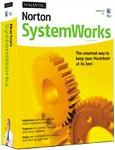 Norton SystemWorks 2002
Automatic removal of many viruses lets you work without interruption
Scans and cleans outgoing email messages
Includes Norton CleanSweep for removing unwanted files
Norton Utilities optimizes performance
GoBack 3 Personal Edition undo system changes
Automatic LiveUpdate checks for and installs new virus definitions
Norton SystemWorks 2002 is the complete problem-solving suite for advanced users and small businesses. It protects your PC against virus threats, optimizes performance, cleans out Internet clutter, provides quick and easy system recovery, clones and upgrades computers. Norton SystemWorks 2002 is the smartest way to keep your computer working. Now users can enjoy the benefits of this all-in-one solution for PC problems. Norton SystemWorks 2002 makes it easy to keep your PC running efficiently. With a single click, you can launch the One-Button Checkup and run an entire battery of tests to identify and fix problems. For ongoing system maintenance, you can schedule regular checkups at your convenience. Norton AntiVirus 2002 detects and repairs many viruses automatically, without interrupting your work. To maximize your virus protection, Norton AntiVirus keeps itself updated automatically over the Internet. Even between virus definition updates, Symantec's exclusive Script Blocking technology identifies and stops script-based viruses such as "I Love You" and "Anna Kournikova."

Norton Utilities 2002 diagnoses and solves Windows problems, optimizes the performance of your computer's hard drive, and monitors your PC continuously to detect and fix potential problems. Its powerful tools are integrated into a single launch window for easy access. You can also run key utilities directly from the CD to save disk space. Norton CleanSweep 2002 improves your PC's performance by finding and deleting files you no longer need, including the clutter that accumulates during Internet sessions. Safe, easy, and reliable, Norton CleanSweep protects vital files, programs, and Windows settings while giving your hard drive a thorough cleanup. Now system crashes, failed software installations, and other PC crises don't have to become downtime disasters. GoBack 3 Personal Edition by Roxio gives you the power to undo PC problems. With GoBack's powerful system recovery capabilities, you can quickly and easily return your PC to a state where it was working properly.
SCREENSHOTS


---
None Available
REVIEWS


---
None available
VERSIONS


---
Norton SystemWorks 2002, £59.95 or less


Compare also:
Norton AntiVirus 2002, £39.95 or less

SYSTEM REQUIREMENTS


---

Windows XP Home Edition/ Professional
Intel &reg Pentium ® 233MHZ or higher processor
128 MB of RAM
85 MB of available hard disk space

Windows 2000 Professional
Intel &reg Pentium &reg 133MHz or higher processor
64 MB of RAM
105 MB of available hard disk space

Windows NT Workstation
Intel &reg Pentium &reg 100MHz or higher processor
Windows NT 4.0 Workstation operating system with Service Pack 6 or higher
32 MB of RAM
105 MB of available hard disk space

Windows Me/98
Intel &reg Pentium &reg 100MHz or higher processor for Windows 98
Intel &reg Pentium &reg 150MHz or higher processor for Windows Me
32 MB of RAM
90 MB of available hard disk space

REQUIRED FOR ALL INSTALLATIONS
CD-ROM or DVD-ROM drive
Microsoft Internet Explorer 5.0 or above

Email scanning support for any standard POP3 compatible email client, including:
Microsoft Outlook Express 4.0/5.x
Microsoft Outlook 97/98/2000/XP
Netscape Messenger 4.x, Netscape Mail 6.0
Eudora Light 3.0, Eudora Pro 4.0, Eudora 5.0

GoBack 3 Personal Edition by Roxio
Intel &reg Pentium &reg 166-MHz or higher processor Windows XP Home, XP Professional, 2000 Professional, NT
4.0 Workstation, Me, or 98 operating system
32 MB of RAM
200 MB of available hard disk space
Average of 10 percent of total hard disk space for GoBack history (configurable)
800x600 display, using 256 colors
PRICING


---
Norton SystemWorks 2002, £59.95 or less

Prices include 17.5% VAT

Email to check latest pricing or stock availability

Check Exchange Rates to convert UK pricing
Postage, Packing & Insurance Rates
1
UK light items (2nd class)
£3 (GBP)
2
UK light items insured (1st class) Any orders over £100
Customers may choose this rate on light items under £100 to speed delivery
£6 (GBP)
3
UK heavy items parcelpost
UK light items next day guaranteed
Europe light items
£9 (GBP)
4
World surface mail
£12 (GBP)
5
Europe heavy items
£15 (GBP)
6
UK heavy items next day guaranteed
World airmail
£18 (GBP)
If you require the outer packaging of your order to be intact for a gift then please add this to any special instructions as normally excess weight is removed before despatch to increase chances of a standard letter box delivery, and thus not require you to wait in to receive your order. Minimum P&P on fully boxed orders is £6
Order direct from BMSoftware
ORDERING


---
Any questions prior to ordering? - Then Email: sales@bmsoftware.com

To order, use the online

If the online ORDER FORM fails for any reason or your product is not yet listed there, or you wish to print and send your order, then fill in the following, hit the Select details button, and copy and paste to your email program or word processor:

Now hit Ctrl+C to copy the selected text to your clipboard and then paste (Ctrl+V) it into your preferred program
CONTACT DETAILS


---
Click here for full Contact Details including postal address, additional phone lines and technical support email.

Whilst we are based in the UK we can ship most items internationally.


| | | | | | | | |
| --- | --- | --- | --- | --- | --- | --- | --- |
| | RETURN TO TOP OF PAGE | | CLOSE WINDOW | | PRINT PAGE | | HOME |