Details and specifications of OmniPage Pro 12, £99.99. Unrivalled accuracy at recognising text, convert paper into searchable PDF files AND convert PDF files almost perfectly!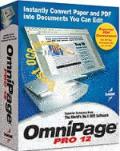 OmniPage Pro 12
OmniPage Pro 12 Office is a powerful productivity application that delivers the most accurate document conversion available, turning PDF and paper - letters, contracts, tables, manuals - into editable word processing and spreadsheet documents. Ideal for desktop, workgroup and enterprise users, OmniPage Pro 12 Office delivers everything you need to convert, edit, process, and share your paper and PDF documents.


Instantly convert paper into Microsoft Office documents.
Turn PDF files into editable documents - with retained layout.
Create unlimited searchable PDF files for electronic archives.
Automatically process images from network MFP and scanners.
Scan/Convert Documents into XML, PDF, TIFF and more.
Share documents using email, Web, XML and eBooks.


OmniPage Pro 12 Office saves you time by eliminating the need to manually reproduce documents and spreadsheets, delivering highly precise, editable results that can be used by your existing PC applications. It saves you money by replacing manual filing with electronic storage and retrieval - delivering the OCR accuracy that gives you the confidence that your documents can be instantly searched and found on your PC, network drives and content management systems. Best of all, it combines desktop ease-of-use with advanced XML, batch processing, PDF and Open eBook capabilities - all within a single, affordable application.

Convert
Turn information into electronic documents you can use. Would it be more efficient to have it electronically instead of paper? Would it be easier to work with Word instead of PDF? Let OmniPage accurately convert your documents for maximum time savings and efficiency.

Edit
You have PDF & paper documents that need to be edited, updated, or integrated into your electronic workflow. Why spend time and money re-typing or re-keying data? With OmniPage Pro 12 Office you can save time and eliminate this effort by editing your documents electronically - whether they are paper or PDF.

Process
Need to find important information fast? Want to use your information within other programs and applications? OmniPage Pro 12 Office provides a unique set of automation, archive and integration capabilities designed to process documents for maximum productivity.

Share
Increase your company's productivity by sharing information - within the workgroup or across the country. OmniPage Pro 12 Office delivers powerful document conversion choices that enable users to share and comment on documents within a networked document management system, over the web, or via email.


SCREENSHOTS


---
None Available
REVIEWS


---
None available
VERSIONS


---
OmniPage Pro 12, £99.99 If you are a MAC user? Then you need OmniPage Pro X,
SYSTEM REQUIREMENTS


---
Intel® Pentium® Processor or equivalent
64 MB of memory (RAM) 128 MB recommended
135 MB of free hard disk space
5MB for Microsoft® Installer (MSI)
SVGA monitor with 256 colors and 800x600 pixel resolution
CD-ROM drive for installation
Compatible Scanner
Windows® 98SE, 2000, Me, XP, or Windows NT® 4.0, SP 6.0 or higher
PRICING


---
OmniPage Pro 12, £99.99


Prices include 17.5% VAT

P&P will be charged at "light/heavy items" rates (1/2/3 etc3/5/6) - see below

Email to check latest pricing or stock availability

Check Exchange Rates to convert UK pricing
Postage, Packing & Insurance Rates
1
UK light items (2nd class)
£3 (GBP)
2
UK light items insured (1st class) Any orders over £100
Customers may choose this rate on light items under £100 to speed delivery
£6 (GBP)
3
UK heavy items parcelpost
UK light items next day guaranteed
Europe light items
£9 (GBP)
4
World surface mail
£12 (GBP)
5
Europe heavy items
£15 (GBP)
6
UK heavy items next day guaranteed
World airmail
£18 (GBP)
If you require the outer packaging of your order to be intact for a gift then please add this to any special instructions as normally excess weight is removed before despatch to increase chances of a standard letter box delivery, and thus not require you to wait in to receive your order. Minimum P&P on fully boxed orders is £6
ORDERING


---
Any questions prior to ordering? - Then Email: sales@bmsoftware.com.

To order, use the online

If the online ORDER FORM fails for any reason or your product is not yet listed there, or you wish to print and send your order, then fill in the following, hit the Select details button, and copy and paste to your email program or word processor:

Now hit Ctrl+C to copy the selected text to your clipboard and then paste (Ctrl+V) it into your preferred program
CONTACT DETAILS


---
Click here for full Contact Details including postal address, additional phone lines and technical support email.

Whilst we are based in the UK we can ship most items internationally.


| | | | | | | | |
| --- | --- | --- | --- | --- | --- | --- | --- |
| | RETURN TO TOP OF PAGE | | CLOSE WINDOW | | PRINT PAGE | | HOME |