| | | |
| --- | --- | --- |
| | Oxford Pop-up Spanish Dictionary | |
Details and specifications of Oxford's Pop-up Spanish Dictionary, (GBP inc VAT RRP £). The highly acclaimed Concise Oxford Spanish Dictionary on CD-ROM - the only concise Spanish Dictionary compiled from real Spanish. [Buy now] or call us on 0870 766 3699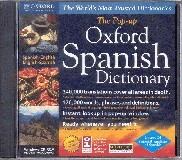 Oxford
Pop-up Spanish Dictionary
The cutting edge iFinger Pop-up in Internet Explorer and the instant search in Windows gives users the easiest-ever access to the 170,000 words and phrases and 240,000 translations from the Concise Oxford Spanish Dictionary.
Get instant results. iFinger Pop-up in Internet Explorer®: use the cutting-edge iFinger Pop-up to get an instant translation. Simply hold your cursor over a word on your Web page and the translation is displayed in a pop-up window.
Get instant results. Searching in a Windows®-based environment:just highlight a word in any Windows-based application and with one keystroke you can see the translation.
Language recognition software: the iFinger software can tell the difference between English and Spanish, so it can take you to the right part of the dictionary.
Install and run the dictionary from your hard drive. There's no need to hunt for the CD-ROM or wait for the application to start up. The Pop-up Concise Oxford Spanish Dictionary installs to your hard drive and runs in the background on your PC, so you can consult it whenever you want with no fuss and no waiting.
Create a fully integrated reference resource. The Pop-up Concise Oxford Spanish Dictionary uses exactly the same software as The Oxford Pop-up English Language Reference Shelf and all the other Pop-up Oxford dictionaries, so you can create your own personal reference library.


Manufacturer's Product Code: Our Product Ref: OXFPSD
SCREENSHOTS


---
None Available
REVIEWS


---
None available
SYSTEM REQUIREMENTS


---
| | | | |
| --- | --- | --- | --- |
| | Windows 98/Me/NT 4.0/2000/XP | Yes | Pentium 166MHz , 32MB RAM, 40MB free hard disk space, SVGA monitor, displaying 16-bit colour (64K, High colour), CD-ROM or DVD drive, Internet Explorer 4.0 (version 5.0 included on the CD-ROM). |
| | Apple MAC | N/A | Purchase Virtual PC first |
| | Linux | N/A | |
VERSIONS, OPTIONS & ALTERNATIVES


---
| | | | | | |
| --- | --- | --- | --- | --- | --- |
| Oxford | Pop-up Spanish Dictionary | | (RRP £) | [OXFPSD] | Buy |

Compare also:


PRICING


---
| | | | | | |
| --- | --- | --- | --- | --- | --- |
| Oxford | Pop-up Spanish Dictionary | | (RRP £) | [OXFPSD] | Buy |
Prices are in £GBP and include all applicable taxes (VAT etc)

P&P will be charged at "light items" rates
(Some valuable items may have to go special delivery and packages may have outer packaging or inner boxing removed to save weight, if this is a gift or for resale please request intact boxes)

See our full Postage & Delivery Details including shipping rates within the UK, Europe and worldwide, first class and next day before 9 AM and 12 Noon, same day options.

Email to check latest pricing or stock availability

Check Exchange Rates to convert UK pricing or Email us with your country and/or currency for a quote.


ORDERING


---
Any questions prior to ordering? - then email: Sales or call us on 0870 766 3699, otherwise proceed to the Order Form.

If the online Order Form fails for any reason or your product is not yet listed there, or you wish to print and send your order, then fill in the following, hit the [Select details] button below, and copy and paste to your email program or word processor:

Now hit Ctrl+C to copy the selected text to your clipboard and then paste (Ctrl+V) it into your preferred Email program or click here to launch your Email editor.
CONTACT DETAILS


---
Click here for full Contact Details including postal address, additional phone lines and technical support email.

Whilst we are based in Norwich, Norfolk in the UK we can ship most items internationally.


RETURN TO
TOP OF PAGE

CLOSE
WINDOW

PRINT
PAGE

HOME
PAGE

TERMS AND
CONDITIONS

HELP ON USING
THIS SITE