| | | |
| --- | --- | --- |
| | Serif PagePlus 10 Desk Top Publisher | |
Details and specifications of Serif's PagePlus 10, £99 (GBP inc VAT RRP £99.95), the superb Desk Top Publisher that rivals Microsoft Publisher for features and price. [Buy now] or call us on 0870 766 3699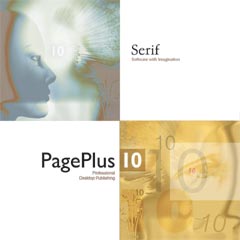 The result of over a decade of sustained development and with dozens of powerful new and enhanced features, PagePlus 10 is here! Desktop publishing has never been more intuitive, more productive or more fun, so if you want 10 out of 10 for desktop publishing get your hands on PagePlus 10!

Serif PagePlus 10 offers you more:

Creativity

Instant 3D
Object Styles
Filter Effects
Convert To Curves
Long Document Features
Convert To PDF or HTML
Photo crop, transparency & editing, in situ
For other existing features see Serif PagePlus 9, for new features to version 10 see below:



Fantastic BookPlus
Creating long documents is a breeze with PagePlus 10's brand new BookPlus! So whether you're working on a magazine, newsletter or even your first novel, with BookPlus you can combine multiple PagePlus publications into a single coordinated document! You can even print or PDF your document with powerful options, including common page numbering.

Synchronise Publications
Want to coordinate Text Styles, Object Styles or Colour Schemes across multiple publications? What used to be a hassle is now made so simple with PagePlus 10's brand new feature! PagePlus 10 makes it a snap to synchronise attributes from different master publications.



Full Unicode Support
PagePlus 10's text engine now supports Unicode characters - essential for international publications. If you want to publish your work in the Far East, or even to create documents that can be read in their native script by many of the UK's diverse residents, you need PagePlus 10!

Mail And Photo Merge
Using the latest ADO and ODBC technologies, it really is a breeze to add photos, images or text stored in almost any database to your publication. Perfect for anything from photo albums to brochures, PagePlus will produce image-packed documents before your very eyes.



All New Find And Replace
Humble 'find and replace' has been revolutionised by PagePlus 10. With this brand new feature you can now not only search for words and phrases, but also text attributes, fonts, colours, alignments and words at certain positions in sentences and many more. This incredible new feature really can find just about anything!

Paste Format Plus


Revolutionises the conventional 'copy and paste'. For the first time, PagePlus 10's Paste Format Plus will copy the attributes and settings of the object you're working on rather than the image itself. If you want to easily recreate shadows, transparencies or filter effects on another object, then you need fantastic new Paste Format Plus.

Picture Toolbar
Want to fix common photo problems without using a separate photo-editor? With PagePlus 10's superb Picture Toolbar you can! This easy-to-use new feature gives you control of the brightness, contrast, colour and resolution of your images - right within PagePlus!



Layer Manager
To keep your work better organised than ever, the PagePlus 10 layer Manager lets you divide the pages into separate layers. Master pages can now also be assigned a layer rather than the whole page - giving you complete control over logos or regularly used text.

Picture Frames
It's a snap to add pictures to any document with Picture Frames. Then, when you do have the graphics you want, you can quickly add them to your layout.



Colour Picker
The sensational Colour Picker puts endless colours at your fingertips! The pipette-style Colour Pickup tool can be used with any program on your PC and 'pick-up' any colour you request! What's more, it'll also automatically add and store the colours on the Studio Bar, so they're at hand whenever you need them.

Manufacturer's Product Code: Our Product Ref: SERP10
SCREENSHOTS


---
Use you back button to return to this page after viewing the screenshots.

Screenshot 1 | Screenshot 2
REVIEWS


---
Digital Camera Magazine, February 2005:
"A comprehensive DTP package that gives photographers the opportunity to create sophisticated documents using their own images."

Computer Shopper, March 2005:
"Whether you want to create a brochure for a small business or local organization, design a personal greetings or business card or even publish a book, Serif is one of the few products that can meet all your needs without breaking the bank."

PC Answers, February 2005:
"High-end desktop publishing applications are expensive, complex, difficult to learn and use, while the budget end of the market is usually limited in the extreme. Fortunately PagePlus has successfully occupied the middle ground since 1990…"

Personal Computer World, February 2005:
"Serif PagePlus 10 brings page layout software into the hands of non-professional users, providing simplified tools to create a whole range of publications from business cards to books."

PC Pro, February 2005:
"PagePlus' long heritage immediately means that new users get a lot for their money, and there's even more to be had in the latest version."

PC Home, January 2005:
"An easy to use and feature-packed upgrade that provides many useful new tools and features that will prove invaluable for designers."

PC Utilities, January 2005:
"Anyone in the market for an affordable DTP package still has an easy choice - there remains only one sensible option and that's still PagePlus."

PC Plus, January 2005:
"This powerful and versatile budget DTP application has all the wizards, quality templates, tutorials and help that a beginner will need. But there's plenty for experts and professional users too..."

XP How To, December 2004:
"PagePlus ticks all the right boxes, and with these tools at your disposal you can create top-quality, polished projects in no time at all."

PC Format, September 2004:
"This is a fantastic DTP package. Put simply, if you can put it on a page, Serif PagePlus can handle it with aplomb."
SYSTEM REQUIREMENTS


---
Minimum
IBM-compatible Pentium PC with CD-ROM drive and mouse (or other Microsoft compatible pointing device)
Microsoft Windows® 98, 98 SE, Me, 2000 or XP operating system
64MB RAM minimum
240MB (recommended install) free hard disk space
SVGA (800x600 resolution, 16-bit colour) display or higher
Additional disk resources and memory are required when editing large or complex documents.

Optional
Windows-compatible printer

TWAIN-compatible scanner and/or digital camera

Stylus or other input device

Internet account and connection required for Web Publishing features and accessing online resources
OPTIONS, VERSIONS & ALTERNATIVES


---
| | | | | | |
| --- | --- | --- | --- | --- | --- |
| Serif | PagePlus 10 | £99 | (RRP £99.95) | [SERP10] | Buy |

Compare also:


| | | | | | | |
| --- | --- | --- | --- | --- | --- | --- |
| Serif | PagePlus 9 | £79 | (RRP £99.95) | [SERPP9] | Buy | | View |
| Serif | PagePlus 8 | £59 | (RRP £99.95) | [SERPP8] | Buy | | View |
| Serif | PagePlus 7 | £39 | (RRP £99.95) | [SERPP7] | Buy | | View |
| Serif | PagePlus 6 | £19 | (RRP £99.95) | [SERPP6] | Buy | | View |
PRICING


---
| | | | | | |
| --- | --- | --- | --- | --- | --- |
| Serif | PagePlus 10 | £99 | (RRP £99.95) | [SERP10] | Buy |
Prices are in £GBP and include all applicable taxes (VAT etc)

P&P will be charged at "light items" rates (1/2/3) - click here for full Postage & Delivery Details including shipping rates within the UK, Europe and worldwide, same day and next day before midday options.

Email to check latest pricing, request a price match or stock availability.

Check Exchange Rates to convert UK pricing or Email us with your country and/or currency for a quote.


ORDERING


---
Any questions prior to ordering? - then email: Sales or call us on 0870 766 3699, otherwise proceed to the Order Form.

If the online Order Form fails for any reason or your product is not yet listed there, or you wish to print and send your order, then fill in the following, hit the [Select details] button below, and copy and paste to your email program or word processor:

Now hit Ctrl+C to copy the selected text to your clipboard and then paste (Ctrl+V) it into your preferred Email program or click here to launch your Email editor.
CONTACT DETAILS


---
Click here for full Contact Details including postal address, fax, additional phone lines and technical support email.

Whilst we are based in the UK we can ship most items internationally.


RETURN TO
TOP OF PAGE

CLOSE
WINDOW

PRINT
PAGE

HOME
PAGE

TERMS AND
CONDITIONS

HELP ON USING
THIS SITE