Details and specifications of Symantec's pcAnywhere 11.0, £149 (GBP inc VAT RRP £169.99). Symantec pcAnywhere 11.0™ 11.0 is the world's leading remote control solution.* Its integrated tools make it easy for helpdesk personnel to resolve server and workstation problems. Robust security prevents unauthorized access to enterprise resources. File transfer users will appreciate the ability to queue multiple files and then work uninterrupted while the files are transferring. [Buy now] or call us on 0870 766 3699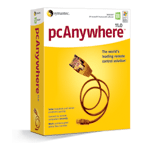 Symantec pcAnywhere 11.0

Details
Remote management tools let you run vital utilities remotely to solve problems and modify settings.
Utilities you can use remotely include Command Prompt, Task Manager, Services, and Regedit.
Other remote management capabilities include viewing, starting, and stopping services; shutting down, locking, and rebooting workstations; logging off users; viewing the NT Event log; editing system files; and viewing installed programs.
Now supports 13 different authentication methods, including LDAP, ADS, NDS, Novell® Bindery, NT domains, and RSA SecurID.®
The pcAnywhere Command Queue lets you send a set of files and DOS commands to one or more computers.
Symantec Packager™ lets you deploy custom configurations of pcAnywhere and other applications to any Windows NT, 2000, XP, or Server 2003 system.
Files are transferred in the background so you can work uninterrupted.
Redesigned user interface makes navigation easier than ever.
PKI and symmetric encryption protect confidential data.
Allows you to restrict access to specific subnets or IP addresses.
Lets you hide your pcAnywhere-enabled systems from people browsing the network for TCP/IP hosts.
Mandatory password protection ensures that only authorized users can access a pcAnywhere host.
The encryption wizard provides easy access to powerful data security.
Compatibility with cable and DSL modems permits high-speed remote connections.


Manufacturer's Product Code: Our Product Ref: PCAW11
SCREENSHOTS


---
None Available
REVIEWS


---
None available Use your back button to return to this page after viewing the reviews. If the back button is greyed out then you can safely close the window and this one will be behind it.

Review from PC Magazine giving a 4 out of 5 rating or Reviews
SYSTEM REQUIREMENTS


---
| | | | |
| --- | --- | --- | --- |
| | Windows PC | Yes | Pentium 233MHz, 64MB RAM (128MB Recom.), 35MB HD Space, DVD/CD drive |
| | Apple MAC | N/A | Purchase Virtual PC first |
| | Linux | N/A | |
VERSIONS, OPTIONS & ALTERNATIVES


---
| | | | | | |
| --- | --- | --- | --- | --- | --- |
| Symantec | pcAnywhere 11.0 | £149 | (RRP £169.99) | [PCAW11] | Buy |

Compare also:


PRICING


---
| | | | | | |
| --- | --- | --- | --- | --- | --- |
| Symantec | pcAnywhere 11.0 | £149 | (RRP £169.99) | [PCAW11] | Buy |
Prices are in £GBP and include all applicable taxes (VAT etc)

P&P will be charged at "light items" rates
(Some valuable items may have to go special delivery and packages may have outer packaging or inner boxing removed to save weight, if this is a gift or for resale please request intact boxes)

See our full Postage & Delivery Details including shipping rates within the UK, Europe and worldwide, first class and next day before 9 AM and 12 Noon, same day options.

Email to check latest pricing or stock availability

Check Exchange Rates to convert UK pricing or Email us with your country and/or currency for a quote.


ORDERING


---
Any questions prior to ordering? - then email: Sales or call us on 0870 766 3699, otherwise proceed to the Order Form.

If the online Order Form fails for any reason or your product is not yet listed there, or you wish to print and send your order, then fill in the following, hit the [Select details] button below, and copy and paste to your email program or word processor:

Now hit Ctrl+C to copy the selected text to your clipboard and then paste (Ctrl+V) it into your preferred Email program or click here to launch your Email editor.
CONTACT DETAILS


---
Click here for full Contact Details including postal address, additional phone lines and technical support email.

Whilst we are based in Norwich, Norfolk in the UK we can ship most items internationally.


RETURN TO
TOP OF PAGE

CLOSE
WINDOW

PRINT
PAGE

HOME
PAGE

TERMS AND
CONDITIONS

HELP ON USING
THIS SITE