| | | |
| --- | --- | --- |
| | Systran Pro Standard Version 4.0 | |
Details and specifications of Systran Pro Standard Version 4.0, £319.00. Provides small businesses and serious home users with powerful easy-to-use translation software that allows users to translate e-mail, letters and documents interactively or send a file off to translation with one click of a mouse. . [Buy now]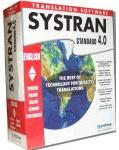 Bilingual English to & from French, German, Italian, Portuguese, Spanish translation
NOTE: Portuguese used in Systran is Brazilian

Accurate: Systran recognizes an impressive number of linguistic rules which allow it to analyze and then recontruct the grammatical structure of the sentences to be translated. The core of systran's "intelligence", its linguistic analysis technique, has been awarded several patents.

Comprehensive: The systran multi-subjected dictionary translates more than 1,800,000 terms and expressions. As well as covering all general terms, it has also earned a strong reputation for its coverage of several specialized subjects

Customizable: SYSTRAN standard provides you an innovative and powerful Dictionary Manager. Within seconds, you can mark words that should not be translated, such as product names, and even add new expressions that override the default translation.

Integrated: Thanks to the SYSTRAN standard plugins for Microsoft Office, you can seamlessly translate from word, excel, Powerpoint, Outlook and Internet Explorer

Productive: Systran Translation Project Manger allows you to manage sophisticated translation projects. It offers side-by-side comparisions of the original document next to the translation, linguistic, customization options, the display of alternate meanings, and many other useful features.

Experienced: SYSTRAN is the market leading provider of the most scalable and modular translation architecture. Its core technology powers revolutionary translation solutions for the internet, PCs and network infrastructures that facilitates communication in 36 language pairs and in 20 specialized domains. SYSTRAN's expertise spans over 30 years and, as such, is dedicated to providing high quality translation products and solution.


SCREENSHOTS


---
None Available
REVIEWS


---
None available
VERSIONS


---
Systran Pro Standard Version 4.0, £319.00, Buy

Systran Personal 4.0, £59.00 - basic version for small texts, no Office integration or dictionary editing

Add Japanese, Korean, English -> Russian, Chinese -> English, English -> Dutch (soon...) and purchase the Premium version:

Systran Pro Premium Version 4.0, £749.00, Buy

Compare also:

Logomedia
Power Translator
Desktop Translator
Easy Translator

SYSTEM REQUIREMENTS


---
Windows 95/98, Windows NT, Windows XP, Localized Windows, Windows 2000

486 Intel or compatible Windows PC
Recommended 16 MB RAM
15 MB hard disk space
20 MB swap file size


PRICING


---
Systran Pro Standard Version 4.0, £319.00, Buy.


Prices are in £GBP and include all applicable taxes (VAT etc)

P&P will be charged at "light items" rates (1/2/3) - click here for full Postage & Delivery Details including shipping rates within the UK, Europe and worldwide, same day and next day before midday options.

Email to check latest pricing or stock availability

Check Exchange Rates to convert UK pricing or Email us with your country and/or currency for a quote.


ORDERING


---
Any questions prior to ordering? - then email: Sales, otherwise proceed to the Order Form.

If the online Order Form fails for any reason or your product is not yet listed there, or you wish to print and send your order, then fill in the following, hit the [Select details] button below, and copy and paste to your email program or word processor:

Now hit Ctrl+C to copy the selected text to your clipboard and then paste (Ctrl+V) it into your preferred Email program or click here to launch your Email editor.
CONTACT DETAILS


---
Click here for full Contact Details including postal address, additional phone lines and technical support email.

Whilst we are based in the UK we can ship most items internationally.


RETURN TO
TOP OF PAGE

CLOSE
WINDOW

PRINT
PAGE

HOME
PAGE

TERMS AND
CONDITIONS

HELP ON USING
THIS SITE