Details and specifications on: Euro Talk Learn Urdu, £24.99. A language package for learning Urdu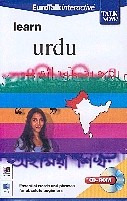 Euro Talk Learn Urdu
This is an excitingly different language learning series. Talk Now! uses games and quizzes as a basis for making the learning process fun and relaxing. There's no better way to teach an old dog new tricks and this fun element of the program means that your fears are forgotten as you absorb words and phrases without even realising you are learning them.'



Talk Now! is designed for people who want to learn a language quickly
It's addictive, fun and makes learning easy
If you don't have time to become fluent, but need the basics in a hurry, Talk Now! is for you
Comprehensive:-Topics include; first words, phrases, shopping, numbers and time
Ideal for beginners
SCREENSHOTS


---
None Available
REVIEWS


---
None available
VERSIONS


---
Euro Talk Learn Urdu, £24.99

Compare also:

SYSTEM REQUIREMENTS


---
PC
Windows 95/98/2000/NT
486 Processor
16MB Ram
4X CD-ROM
100MB free HD space
16-bit PCI/AGP Graphics Card
16-bit DirectX compatible Sound Card with Speakers
Standard Keyboard & Mouse
256 Colour Monitor supporting high colour(16-bit) at 640x480 resolution
Microphone recommended


Mac
OS Version 7.5.5 or higher
68040 PowerPC Processor
4xCD-ROM
16MB RAM.
100MB Free HD space
640x480 256 colour Graphics Card
Built in sound or sound manager
3.1 compatible sound card and speakers
256 Color Display
Microphone recommended
PRICING


---
Euro Talk Learn Urdu, £24.99


Prices include all applicable taxes

P&P will be charged at "light/heavy items" rates (1/2/3 or 3/6) - click here for full Postage & Delivery Details including shipping rates within the UK, Europe and worldwide, and next day before midday options. Email to check latest pricing or stock availability

Check Exchange Rates to convert UK pricing
ORDERING


---
Any questions prior to ordering? - Then Email: sales@bmsoftware.com

To order, use the online

If the online ORDER FORM fails for any reason or your product is not yet listed there, or you wish to print and send your order, then fill in the following, hit the Select details button, and copy and paste to your email program or word processor:

Now hit Ctrl+C to copy the selected text to your clipboard and then paste (Ctrl+V) it into your preferred program
CONTACT DETAILS


---
Click here for full Contact Details including postal address, additional phone lines and technical support email.

Whilst we are based in the UK we can ship most items internationally.


| | | | | | | | |
| --- | --- | --- | --- | --- | --- | --- | --- |
| | RETURN TO TOP OF PAGE | | CLOSE WINDOW | | PRINT PAGE | | HOME |