| | | |
| --- | --- | --- |
| | Transparent Language I Can Speak Italian | |
Details and specifications of Transparent Language's I Can Speak Italian, £19.99 (GBP inc VAT RRP £19.99). The perfect combination of revolutionary and traditional learning methods. [Buy now] or call us on 0870 766 3699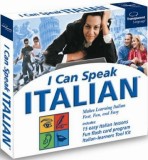 Transparent Language
I Can Speak Italian
Learning Italian has never been this easy! I Can Speak Italian combines the best of traditional lessons-based learning with the powerful features of T ransparent Language's leading languagelearning technology. The structured natur e of the lessons allows you to build language skills progressively. At the same time, an array of multimedia language-learning games and tools allow you to le arn a foreign language easily and more effectively than ever before. I Can Spea k Italian starts with the absolute basics of the language. By the end of the 15 th lesson, you are able to communicate at an intermediate level using a wide ra nge of vocabulary. Tips and suggestions throughout the program provide a clear understanding of the language and direct you to activities designed to maximize your learning. It's like having a language teacher right there. You will be am azed at how quickly you are able to understand and communicate in Italian.

You'll notice immediate progress as your ability to understand and use Italian grows from lesson to lesson. You'll participate in real conversations, understa nd grammar and learn thousands of new words. After finishing I Can Speak Italia n, you will be able to communicate at an intermediate level using a wide range of vocabulary.

Features and Benefits
15 easytounderstand lessons created by educators to introduce the language in straightforward sections that build on what you have already learned.
Video Tutor--An English introduction to each lesson so you can concentrate on the objectives.
Interactive Electronic Flashcards--Each lesson has two "stacks" of electron ic flashcards for learning new vocabulary and verb conjugations effectively.
Online quizzes monitor your improvement as you progress through the lessons .
Native-speaker sound for every word and phrase. You hear correct pronunciat ion from the very start.
SlowSound lets learners develop listening skills.
Record and Compare your voice to the native speaker to learn proper pronunc iation and intonation.
Conversation Practice lets you master listening and speaking skills by part icipating in interactive dialogs.
Interactive Games like Vocabulous!, Unscramble, PlugnPlay, and Crosswords h elp you build vocabulary and grammar skills while having fun.
Listen & Speak activities like Word and Sentence Pronunciation and Word Dic tation help you improve pronunciation with comprehension.


Manufacturer's Product Code: Our Product Ref: TLICSI
SCREENSHOTS


---
None Available
REVIEWS


---
None available
SYSTEM REQUIREMENTS


---
| | | | |
| --- | --- | --- | --- |
| | Windows PC | Yes | 98SE/2000 Service Pack 2 or higher/Me or XP; 133MHz Pentium or better; 32 MB available RAM; 60 MB disc space to run with CD-ROM in drive (approximately 25 - 30 MB additional space to run without CD-ROM); sound card; speakers; microphone for recording; video support for High Colour or True Colour Settings and at least 800 x 600 resolution; 2X CD-ROM drive; Microsoft Internet Explorer 5.0 or Higher |
| | Apple MAC | N/A | |
| | Linux | N/A | |
VERSIONS, OPTIONS & ALTERNATIVES


---
| | | | | | |
| --- | --- | --- | --- | --- | --- |
| Transparent Language | I Can Speak Italian | £19.99 | (RRP £19.99) | [TLICSI] | Buy |

Compare also:


PRICING


---
| | | | | | |
| --- | --- | --- | --- | --- | --- |
| Transparent Language | I Can Speak Italian | £19.99 | (RRP £19.99) | [TLICSI] | Buy |

Also see alternative versions and products above

Prices are in £GBP and include all applicable taxes (VAT etc)

P&P will be charged at "light items" rates
(Some valuable items may have to go special delivery and packages may have outer packaging or inner boxing removed to save weight, if this is a gift or for resale please request intact boxes)

See our full Postage & Delivery Details including shipping rates within the UK, Europe and worldwide, first class and next day before 9 AM and 12 Noon, same day options.

Email to check latest pricing or stock availability

Check Exchange Rates to convert UK pricing or Email us with your country and/or currency for a quote.


ORDERING


---
Any questions prior to ordering? - then email: Sales or call us on 0870 766 3699, otherwise proceed to the Order Form.

If the online Order Form fails for any reason or your product is not yet listed there, or you wish to print and send your order, then fill in the following, hit the [Select details] button below, and copy and paste to your email program or word processor:

Now hit Ctrl+C to copy the selected text to your clipboard and then paste (Ctrl+V) it into your preferred Email program or click here to launch your Email editor.
CONTACT DETAILS


---
Click here for full Contact Details including postal address, additional phone lines and technical support email.

Whilst we are based in Norwich, Norfolk in the UK we can ship most items internationally.


RETURN TO
TOP OF PAGE

CLOSE
WINDOW

PRINT
PAGE

HOME
PAGE

TERMS AND
CONDITIONS

HELP ON USING
THIS SITE