| | | |
| --- | --- | --- |
| | Transparent Language Learn English Now 9 for Spanish Speakers | |


Details and specifications of Transparent Language's Learn English Now 9 for Spanish Speakers, £39.00 (GBP inc VAT RRP £49.99). EnglishNow! - Edición de lujo contiene 4 Títulos para ayudarle a aprender un idioma, más otras herramientas extras. [Buy now] or call us on 0870 360 3699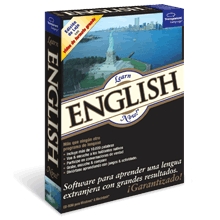 Transparent Language
Learn English Now 9 for Spanish Speakers
EnglishNow! - Edición de lujo contiene 4 Títulos para ayudarle a aprender un idioma, más otras herramientas extras.
The Most Common Words in English (con diálogos)
Survival Phrases for English (con diálogos)
A Visit to Washington, D.C. (con vídeo)
New York: Take a Bite Out of the Big Apple (con vídeo)

GrammarPro! - Referencia de gramática interactiva
GlobalWriter98 (Sólo para Windows) - Una procesador multilingüe de palabras. Comience a escribir en 100 lenguas.

Yes! "¡Hay un método mejor para aprender el inglés!"

Con EnglishNow!, usted aprenderá al sumergirse en el inglés. Usted participará en conversaciones auténticas, leerá artículos interesantes y mirará vídeos fascinantes de los Estados Unidos.

Mientras usted se encuentra ocupado en esta rica experiencia de multimedios, puede que nunca se senta como si estuviera estudiando, y el hecho de que en realidad usted está usando el inglés se hace transparente.

Características
Más de 10.000 palabras
Cientos de frases útiles
Vídeo
Pronunciación completa de hablantes nativos
Grabe, escuche & compare
Análisis avanzado de la pronunciación
Sonido lento para oír cada matiz
Referencia del alfabeto
Práctica de la conversación
Dictado de las palabras
Referencia de gramática
Búsqueda de las palabras y sus raíces
Vocabulous!®, Crucigramas y más juegos interactivos
Video Unscramble
Cuestionarios en linea
Observación cuidadosa del progreso personal
¡Y mucho más!

"He probado varias técnicas de aprendizaje de lenguas y no existe un método mejor para aprender una lengua." – Jim Hughes, Chester, PA

"Transparent Language ha revolucionado el aprendizaje de las lenguas extranjeras basado en computadoras." – Mac User/Ziff Davis


Please Email or Call 0870 360 3699 to enquire about site licenses, network versions, bulk discounts or educational pricing.

[Buy now] or call us on 0870 360 3699

Manufacturer's Product Code: Transparent Language - BMSoftware Product Code: TLLES9
SCREENSHOTS


---
REVIEWS


---
Reviews, tests and comparisons of language software:
SYSTEM REQUIREMENTS


---
Windows PC
Pentium (o mejor)
Sí
Windows 95, 98, 2000 o NT 4.0 con Service Pack 3 o mejor; 32MB RAM; 35MB espacio en el disco duro; tarjeta de sonido; altavoces; monitor de VGA que apoya las configuraciones de Color de alta densidad (High Color) o Color verdadero (True Color) y una resolución de 800 X 600 o mejor; unidad de CD-ROM de 2X.
Apple MAC
procesador de Power PC o mejor;
Sí
Sistema 7.5.5 (o mejor); 16MB RAM disponible; 35MB espacio en el disco duro; monitor que apoya la configuración de Miles de Colores con una resolución de 800 X 600 o mejor; unidad de CD-ROM de 2X
Linux
N/A
VERSIONS, OPTIONS & ALTERNATIVES


---
| | | | | | |
| --- | --- | --- | --- | --- | --- |
| Transparent Language | Learn English Now 9 for Spanish Speakers | £39.00 | (RRP £49.99) | [TLLES9] | Buy or Phone 0870 360 3699 |

Compare also:


PRICING


---
| | | | | | |
| --- | --- | --- | --- | --- | --- |
| Transparent Language | Learn English Now 9 for Spanish Speakers | £39.00 | (RRP £49.99) | [TLLES9] | Buy or Phone 0870 360 3699 |

Also see alternative versions and products above

Prices are in £GBP and include all applicable taxes (VAT etc)

P&P will be charged at "light/heavy items" rates
(Some valuable items may have to go special delivery and packages may have outer packaging or inner boxing removed to save weight, if this is a gift or for resale please request intact boxes)

See our full Postage & Delivery Details including shipping rates within the UK, Europe and worldwide, first class and next day before 9 AM and 12 Noon, same day options.

Email to check latest pricing or stock availability or for a bulk discount quote of up to 40%.

Check Exchange Rates to convert UK pricing or Email us with your country and/or currency for a quote.


ORDERING


---
Any questions prior to ordering? - then email: Sales or call us on 0870 360 3699, otherwise proceed to the Order Form.

If the online Order Form fails for any reason or your product is not yet listed there, or you wish to print and send your order, then fill in the following, hit the [Select details] button below, and copy and paste to your email program or word processor:

Now hit copy (Ctrl+C) the selected text to your clipboard and then paste (Ctrl+V) it into your preferred Email program or click here to launch your Email editor.
CONTACT DETAILS


---
Click here for full Contact Details including postal address, additional phone lines and technical support email.

Whilst we are based in Norwich, Norfolk in the UK we can ship most items internationally.


RETURN TO
TOP OF PAGE

CLOSE
WINDOW

PRINT
PAGE

HOME
PAGE

TERMS AND
CONDITIONS

HELP ON USING
THIS SITE