| | | |
| --- | --- | --- |
| | Transparent Language Learn Polish Now 9 | |


Details and specifications of Transparent Language's Learn Polish Now 9, £39.00 (GBP inc VAT RRP £49.99). With PolishNow!, you'll learn by immersing yourself in Polish. You'll participate in real conversations, read interesting articles, and watch intriguing videos from Poland. [Buy now] or call us on 0870 360 3699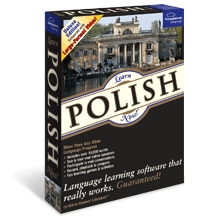 Transparent Language
Learn Polish Now 9
PolishNow! Deluxe with 4 language-learning Titles and an additional learning tool
The Most Common Words in Polish (with dialog practice)
Survival Phrases for Polish (with dialog practice)
Discovering Poland (with video)
A Polish Family Heritage (with illustrations)
GlobalWriter98 (Windows Only), a word processing program to help you write in over 100 languages.

Yes! "There is a better way to learn Polish"

With PolishNow!, you'll learn by immersing yourself in Polish. You'll participate in real conversations, read interesting articles, and watch intriguing videos from Poland.

Engaged in this rich multimedia experience, you may never feel like you're studying, and the fact that you are actually using Polish becomes transparent.

Features & Benefits
Over 10,000 Words
Hundreds of Useful Phrases
Full Motion "Big Picture" Video
Full Native Speaker Pronunciation
Record, Playback and Compare
Advanced Pronunciation Analysis
SlowSound to Hear Every Nuance
Alphabet Reference
Conversation Practice
Word Dictation
Grammar Tutorial
Word and Root Search
Vocabulous!, Crosswords, and More Interactive Games
Video Unscramble
Online Testing
Personal Progress Tracking
Plus Much More!
"I have tried various language learning techniques and there is no better method for learning a language." – Jim Hughes, Chester, PA "Transparent Language has revolutionized computer-based language learning." – Mac User/Ziff Davis

Five Exciting Areas and Hundreds of Interactive Activities to Learn From - PolishNow! - ! is a revolutionary language-learning tool that provides you with a rich language experience far superior to that of other software products. PolishNow! unites industry-leading tools with authentic, interesting content to make learning fast, fun, and effective.

Big Video Screen - Just select one of the interesting articles or stories and click to explore your new language. View foreign language videos complete with the sites and sounds of real people speaking and interacting in Polish. Or jump directly into exciting interactive games, pronunciation-improving practice or invigorating conversations. Determine your own learning pace by deciding when you need translation-and when you don't. All the tools you need to quickly master Polish are instantly available in PolishNow!

Interactive Conversation Practice – Practice your lines using the prompts and the integrated speech features, then record your voice and replay the whole conversation with the lines you've recorded. It's a terrific way to get valuable real-world experience using Polish. In no time, you'll be conditioned to respond correctly without thinking about it, just like you do in English.

Please Email or Call 0870 360 3699 to enquire about site licenses, network versions, bulk discounts or educational pricing.

[Buy now] or call us on 0870 360 3699

Manufacturer's Product Code: Transparent Language - BMSoftware Product Code: TLLPO9
SCREENSHOTS


---
REVIEWS


---
Reviews, tests and comparisons of language software:
SYSTEM REQUIREMENTS


---
Windows PC
133MHz Pentium
Yes
64MB RAM, 70-600MB HD, CDROM, sound, 800x600 high or true colour display, microphone, Internet
Apple MAC
Yes
OS X version 10.1.3 or higher, G3 or better, 128MB available RAM, minimum 30 MB disk space, support for Thousands of Colors setting and at least 800 x 600 resolution, CD-ROM drive, microphone for recording
Linux
N/A
VERSIONS, OPTIONS & ALTERNATIVES


---
| | | | | | |
| --- | --- | --- | --- | --- | --- |
| Transparent Language | Learn Polish Now 9 | £39.00 | (RRP £49.99) | [TLLPO9] | Buy or Phone 0870 360 3699 |

Compare also:


PRICING


---
| | | | | | |
| --- | --- | --- | --- | --- | --- |
| Transparent Language | Learn Polish Now 9 | £39.00 | (RRP £49.99) | [TLLPO9] | Buy or Phone 0870 360 3699 |

Also see alternative versions and products above

Prices are in £GBP and include all applicable taxes (VAT etc)

P&P will be charged at "light/heavy items" rates
(Some valuable items may have to go special delivery and packages may have outer packaging or inner boxing removed to save weight, if this is a gift or for resale please request intact boxes)

See our full Postage & Delivery Details including shipping rates within the UK, Europe and worldwide, first class and next day before 9 AM and 12 Noon, same day options.

Email to check latest pricing or stock availability or for a bulk discount quote of up to 40%.

Check Exchange Rates to convert UK pricing or Email us with your country and/or currency for a quote.


ORDERING


---
Any questions prior to ordering? - then email: Sales or call us on 0870 360 3699, otherwise proceed to the Order Form.

If the online Order Form fails for any reason or your product is not yet listed there, or you wish to print and send your order, then fill in the following, hit the [Select details] button below, and copy and paste to your email program or word processor:

Now hit copy (Ctrl+C) the selected text to your clipboard and then paste (Ctrl+V) it into your preferred Email program or click here to launch your Email editor.
CONTACT DETAILS


---
Click here for full Contact Details including postal address, additional phone lines and technical support email.

Whilst we are based in Norwich, Norfolk in the UK we can ship most items internationally.


RETURN TO
TOP OF PAGE

CLOSE
WINDOW

PRINT
PAGE

HOME
PAGE

TERMS AND
CONDITIONS

HELP ON USING
THIS SITE