Details and specifications of H+H's Virtual CD 8, From £29.95 (GBP inc VAT RRP £). Copy CDROMs, Audio CDs or DVDs to your hard drive which are then run in virtual CD drives which are automatically set up in Windows to have all the functions and features of physical CD drives. [Buy now] or call us on 0870 360 3699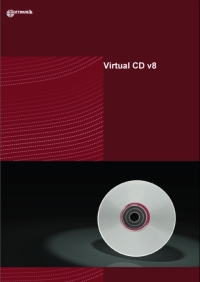 H+H
Virtual CD 8
Brief List of Functions
Availability of up to 23 virtual drives.
Unlimited number of virtual CDs.
Editor to create virtual CDs with any content.
Automatic recognition of title, album, and artist for audio CDs.
Supports DVD-ROM, DVD-Video, Photo-CD and CD-Text formats.
Easy-to-use, simplified copy mode for the novice user.
Virtual CDs can be organized in folders.
Import of ISO-conforming container files (data exchange with CD-R software).
Improved data compression.
Access to virtual CDs, which are within the network.
Supports up to 99 audio tracks per virtual CD.
Editing of existing virtual CDs with the Virtual CD Editor.
Drive editor enables easy changes of the number of virtual drives.
Virtual CDs are password-protected from unauthorized access.
What's new in version 8?

Certified 64-bit driver
As the first and only CD-Emulator worldwide Virtual CD v8 supports all current Windows operating system with a certified driver – including Windows XP x64 Edition! Hereby the performance of the modern Windows operating systems is optimally supported. At the same time, the Microsoft driver certification guarantees maximum stability.

Virtual CD/DVD burner
Through its integrated virtual burner Virtual CD v8 gives you the possibility of burning CDs and DVDs virtually, so that you need neither a physical blank disk nor a CD/DVD burner. The virtual burner integrated in the Virtual CD system is addressed exactly as a physical burner and supports all programs with an integrated burning function (e.g. video editing programs, backup tools, audio-software etc.). With the burning procedure Virtual CD creates a CD/DVD image on the fixed disk, which you can, for example, insert directly in a virtual drive to test or immediately use the CD. Depending on data and blank disk format you can increase the speed of the burning procedure significantly in comparison with the physical burners and blank CDs. Of course, the images created in this manner by Virtual CD can, if necessary, be burned onto physical media.

Virtual fixed disk with encryption
The virtual burner contained in Virtual CD can as well be used as a virtual fixed disk through the support of the DVD-RAM. By activating the AES 256bit-encryption you can provide a high level of security for your confidential data. In addition to the typical Virtual CD easiness, you profit from the easy read and write access similar to a physical fixed disk.

Enhanced function access over the tray icon
The Virtual CD system tray quick start menu offers you as of now significantly more functionalities. Alongside the already familiar program menu which opens with the left mouse click, you can immediately attain the new drive menu with the right mouse click on the icon. Through this expansion you can directly access every drive and nearly every function in a jiffy.

Insert virtual CDs in physical drives
Many – mostly older – software programs expect the necessary program- oder installation-CD to be inserted in the first CD/DVD-drive. Since the first drive is usually the physical CD/DVD drive, Virtual CD v8 supports the provision of images in the corresponding drive letters and thus makes the usage of such programs with virtual CDs possible.

Improved support of non-standard CDs and DVDs
Through new readout algorithms and an improved analysis function you can create images from most of those CDs/DVDs from which it wasn't possible up until now.

Denoiser for physical CD/DVD-drives
With the new denoiser function of Virtual CD v8 you can control the speed and timeout period of your physical CD/DVD drives. Thus you can achieve a pleasant noise level.

Expanded toolbox
The Virtual CD-Toolbox has been significantly enlarged for your convenience. Now you can directly and quickly access all Virtual CD modules. With the intuitive clear user interface of the toolbox you can directly use the functions you need without having to start the Virtual CD management interface.

Improved API- and scripting functions
Virtual CD v8 contains re-engineered and improved API- and scripting functions. These expansions make it even easier to use Virtual CD with other programs and improves the possibility of automatically using Virtual CD by scripts.

Flexible layout of the CD-management including a layout-browser
Now with Virtual CD v8 you can store individual layouts of the graphical user interface and see and activate each layout in a preview in the integrated browser.

Please Email or Call 0870 360 3699 to enquire about site licenses, network versions, bulk discounts or educational pricing.

[Buy now] or call us on 0870 360 3699

Manufacturer's Product Code: H+H - BMSoftware Product Code: VCDV8S
SCREENSHOTS


---
REVIEWS


---
Reviews, tests and comparisons of utilities software:
SYSTEM REQUIREMENTS


---
Windows PC
Pentium 1GHz Processor or faster
Yes
PC with Windows 2000 (SP 4) / Windows XP (SP2) / Windows XP x64 (SP 1), MS Internet Explorer v6(or higher), Est. 50 MB Hard disc space for the Program installation plus enough space for the virtual CDs/DVDs, Display resolution 1024x768 Pixel or higher
Apple MAC
N/A
Purchase Virtual PC first
Linux
N/A
VERSIONS, OPTIONS & ALTERNATIVES


---
| | | | | | |
| --- | --- | --- | --- | --- | --- |
| H+H | Virtual CD 8 | £29.95 | (RRP £) | [VCDV8S] | Buy or Phone 0870 360 3699 |
| H+H | Virtual CD V8 - 5 User Private | £69.95 | (RRP £) | [VCD85P] | Buy or Phone 0870 360 3699 |
| H+H | Virtual CD V8 - 25 User Commercial | £449.95 | (RRP £) | [VC825C] | Buy or Phone 0870 360 3699 |

Compare also:


PRICING


---
| | | | | | |
| --- | --- | --- | --- | --- | --- |
| H+H | Virtual CD 8 | From £29.95 | (RRP £) | [VCDV8S] | Buy or Phone 0870 360 3699 |

Also see alternative versions and products above

Prices are in £GBP and include all applicable taxes (VAT etc)

P&P will be charged at "light/heavy items" rates
(Some valuable items may have to go special delivery and packages may have outer packaging or inner boxing removed to save weight, if this is a gift or for resale please request intact boxes)

See our full Postage & Delivery Details including shipping rates within the UK, Europe and worldwide, first class and next day before 9 AM and 12 Noon, same day options.

Email to check latest pricing or stock availability or for a bulk discount quote of up to 40%.

Check Exchange Rates to convert UK pricing or Email us with your country and/or currency for a quote.


ORDERING


---
Any questions prior to ordering? - then email: Sales or call us on 0870 360 3699, otherwise proceed to the Order Form.

If the online Order Form fails for any reason or your product is not yet listed there, or you wish to print and send your order, then fill in the following, hit the [Select details] button below, and copy and paste to your email program or word processor:

Now hit copy (Ctrl+C) the selected text to your clipboard and then paste (Ctrl+V) it into your preferred Email program or click here to launch your Email editor.
CONTACT DETAILS


---
Click here for full Contact Details including postal address, additional phone lines and technical support email.

Whilst we are based in Norwich, Norfolk in the UK we can ship most items internationally.


RETURN TO
TOP OF PAGE

CLOSE
WINDOW

PRINT
PAGE

HOME
PAGE

TERMS AND
CONDITIONS

HELP ON USING
THIS SITE