Details and specifications on: Euro Talk Vocabulary Builder - Arabic, £14.99. An Arabic language package for children aged 5-12 years old.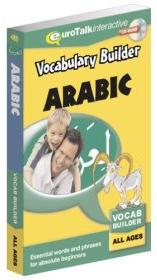 Euro Talk Vocabulary Builder - Arabic

Vocabulary Builder is designed to meet the requirements of children aged 5-12 years old. It combines pictures, text and sound to make an interactive vocabulary building system which parents and teachers can use to help on basic language teaching. Children can use this disc to learn words, play vocabulary games and record their own words and sentences. Although aimed at children, Vocabulary Builder has also proved popular with adults trying to score their own gold award! The demand for further languages based on this highly successful title (now available in 30 different languages) was something that could not be ignored and additional help by an an animated tiger who now speaks over 40 languages has proved even more popular.

Play interactive games like Find The Card, Match The Pairs, and Beat The Clock; learn vocabulary with an interactive film strip in such categories as Common Vocabulary (A, B and C), Colors, Plurals, Professions, Actions, Positions, and Places; or record your voice and match it against the native speakers! All the while your child's progress can be tracked, and a printable version of it can be shared with teachers and parents. And if help is needed, just click on the talking tiger and he'll explain how everything works, all in the native language of the user!
SCREENSHOTS


---
Use you back button to return to this page after viewing the screenshots.

Screenshots
REVIEWS


---
None available
VERSIONS


---
Euro Talk Vocabulary Builder - Arabic, £14.99

Also available in:
Hebrew
English

SYSTEM REQUIREMENTS


---
Windows:
486 processor or better;
Windows 3.1/95/98/ME/NT/2000/XP;
16 MB of RAM;
color VGA monitor;
sound card and microphone.

Macintosh:
68030 processor or higher (eg Power PC);
System 7 or higher;
16Mb of RAM;
color monitor;
16 MB of RAM;
CD-ROM
and Mac compatible microphone.
PRICING


---
Euro Talk Vocabulary Builder - Arabic, £14.99


Prices include 17.5% VAT

Email to check latest pricing or stock availability

Check Exchange Rates to convert UK pricing
Postage, Packing & Insurance Rates
1
UK light items (2nd class)
£3 (GBP)
2
UK light items insured (1st class) Any orders over £100
Customers may choose this rate on light items under £100 to speed delivery
£6 (GBP)
3
UK heavy items parcelpost
UK light items next day guaranteed
Europe light items
£9 (GBP)
4
World surface mail
£12 (GBP)
5
Europe heavy items
£15 (GBP)
6
UK heavy items next day guaranteed
World airmail
£18 (GBP)
If you require the outer packaging of your order to be intact for a gift then please add this to any special instructions as normally excess weight is removed before despatch to increase chances of a standard letter box delivery, and thus not require you to wait in to receive your order. Minimum P&P on fully boxed orders is £6
ORDERING


---
Any questions prior to ordering? - Then Email: sales@bmsoftware.com

To order, use the online

If the online ORDER FORM fails for any reason or your product is not yet listed there, or you wish to print and send your order, then fill in the following, hit the Select details button, and copy and paste to your email program or word processor:

Now hit Ctrl+C to copy the selected text to your clipboard and then paste (Ctrl+V) it into your preferred program
CONTACT DETAILS


---
Click here for full Contact Details including postal address, additional phone lines and technical support email.

Whilst we are based in the UK we can ship most items internationally.


| | | | | | | | |
| --- | --- | --- | --- | --- | --- | --- | --- |
| | RETURN TO TOP OF PAGE | | CLOSE WINDOW | | PRINT PAGE | | HOME |