| | | |
| --- | --- | --- |
| | CorelDRAW 10 Graphics Suite Full Product with KPT 6 | |
Details and specifications of CorelDraw 10, £119 (GBP inc VAT RRP £351.50). This product has a long history of improvements, making it one of the best graphic design packages available. [Buy now]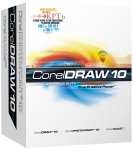 CorelDraw 10


Comprehensive graphics solution that simplifies the design process
Vector illustration, page layout, image-editing, painting, and animation software
Support for text in multiple languages
Enhanced interface, improved customization features
Professional output capabilities
Includes KPT 6 Win
Includes 3 CDs and manuals
Free fonts, photos and clip-art (over 30,000)


Add a new dimension to your creativity with CorelDRAW 10 Graphics Suite. Backed by a decade of award-winning creative power, it delivers vector-illustration, layout, bitmap-creation, image-editing, painting, and animation software, all in one package. The enhanced interface, improved customization features, professional output capabilities, and support for text in multiple languages simplify the design process - whether you're creating for print or the Web. And with Corel R.A.V.E. (Real Animated Vector Effects), a powerful new animation application, you can change live effects over time, generate a timeline of edited work, create rollover graphics, and convert images to Macromedia Flash SWF format. CorelDRAW 10 Graphics Suite equals true creative power.

"R.A.V.E. is a new product for producing Flash and GIF animations for the Web. It's very similar to Adobe's LiveMotion, using an object-and-layer based timeline and auto-tweening between key points. The advantage of R.A.V.E. is that its tools and interface conform to the Corel Graphics Suite approach, keeping the learning curve gentle if you're already using CorelDraw. It's nowhere near as powerful as Macromedia Flash, but it's certainly easier to pick up for commonplace tasks such as rollovers, intro movies and interactive Web elements." (MAC User, October 2001)

And now with KPT 6 which allows users to apply a variety of new and exciting effects to their digital images and animations. These are classified in 10 categories, including KPT Goo, KPT Gel, KPT LensFlare, and many others. KPT 6 also gives the user full control brush size, flow and animation speed, as well as working with pressure-sensitive tablets.

Take advantage of this suite's dazzling speed and performance and interactive tools that make it easy to produce brilliant designs every time. CorelDraw features powerful graphics applications and supporting utilities that deliver the latest in design technology, making it easy to create stunning designs and special effects.CorelDraw delivers the power, reliability and performance to help you complete practically every job boasting a variety of tools and features. CorelDraw is designed to help you produce professional images and documents quickly and easily, and the extensive support for industry-standard file formats in CorelDraw means you can move files freely among different software applications.
UPGRADE
To purchase the upgrade version, you must own a previous licensed version of:
CorelDRAW Graphics Suite
CorelDRAW (standalone)
CorelDRAW Classic
CorelDRAW Select
CorelDRAW Graphics Suite – Special Edition
Corel® PHOTO-PAINT™ (standalone)
Corel DESIGNER®
Corel® Painter™
Micrografx Designer®
Micrografx Graphics Suite®
Micrografx® Picture Publisher® or Corel® Picture Publisher®
Note: Upgrade eligibility excludes academic, OEM and Not For Resale (NFR) versions. Corel products not listed above are not eligible for the upgrade version.


SCREENSHOTS


---
None Available
REVIEWS


---
PC Plus, February 2001, 7 out of 10
"...it is easy to recommend the Corel Draw 10 Graphics Suite to new artists...Good range of tools Effective tutorials, Simple interface, Plenty of bonus programs and materials"

MAC User, October 2001 "Anyone toying between buying Illustrator and FreeHand should try Corel's high-value alternative"

Amazon customer, 5 out of 5 stars
"Great program and a great follow up to the 9th version well worth getting!"
SYSTEM REQUIREMENTS


---
Microsoft Windows 98, NT 4.0, 2000, Me, or XP
Pentium II 200 MHz or faster processor
64 MB RAM - 128 recommended (required for XP)
200 MB hard disk space
CD-ROM drive
Display with a 1024 x 768 resolution
Mouse and keyboard
Internet access required for online features
VERSIONS & ALTERNATIVES


---
CorelDraw 10, £POA, Buy

Compare also:


| | | | | | | |
| --- | --- | --- | --- | --- | --- | --- |
| Corel | CorelDRAW 4 | £9.95 | (RRP £) | [CDRW4] | Buy | | View |
| Corel | CorelDRAW 5 | £15 | (RRP £) | [CDRAW5] | Buy | | View |
| Corel | CorelDRAW 6 | £20 | (RRP £) | [CDRAW6] | Buy | | View |
| Corel | CorelDRAW 7 | £35 | (RRP £) | [CDRAW7] | Buy | | View |
| Corel | CorelDRAW 8 | £44 | (RRP £) | [CDRAW8] | Buy | | View |
| Corel | CorelDRAW 9 | £69 | (RRP £) | [CDRAW9] | Buy | | View |
| Corel | CorelDRAW 10 UPGRADE | £99 | (RRP £351.50) | [CDRW10] | Buy | | View |
| Corel | CorelDRAW 11 UPGRADE | £149 | (RRP £) | [CDR11U] | Buy | | View |
| Corel | CorelDRAW 11 Boxed | £199 | (RRP £) | [CDRW11] | Buy | | View |
| Corel | CorelDRAW 12 Boxed | £299 | (RRP £421.83) | [CDRW12] | Buy | | View |
| Corel | CorelDRAW 12 UPGRADE | £199 | (RRP £210.33) | [CDR12U] | Buy | | View |
PRICING


---
CorelDraw 10, £POA, Buy.

Also see alternative versions and products above

Prices are in £GBP and include all applicable taxes (VAT etc)

P&P will be charged at "heavy items" rates
(Some valuable items may have to go special delivery and packages may have outer packaging or inner boxing removed to save weight, if this is a gift or for resale please request intact boxes)

See our full Postage & Delivery Details including shipping rates within the UK, Europe and worldwide, first class and next day before 9 AM and 12 Noon, same day options.

Email to check latest pricing or stock availability

Check Exchange Rates to convert UK pricing or Email us with your country and/or currency for a quote.


ORDERING


---
Any questions prior to ordering? - then email: Sales or call us on 0844 808 3699, otherwise proceed to the Order Form.

If the online Order Form fails for any reason or your product is not yet listed there, or you wish to print and send your order, then fill in the following, hit the [Select details] button below, and copy and paste to your email program or word processor:

Now hit Ctrl+C to copy the selected text to your clipboard and then paste (Ctrl+V) it into your preferred Email program or click here to launch your Email editor.
CONTACT DETAILS


---
Click here for full Contact Details including postal address, additional phone lines and technical support email.

Whilst we are based in Norwich, Norfolk in the UK we can ship most items internationally.


RETURN TO
TOP OF PAGE

CLOSE
WINDOW

PRINT
PAGE

HOME
PAGE

TERMS AND
CONDITIONS

HELP ON USING
THIS SITE