| | | |
| --- | --- | --- |
| | Foldable keyboard for iPAQ 3850 3870 3950 3970 5450 5550 2210 | |
HP Foldable Keyboard for the HP-Compaq iPAQ
(compatible with iPAQs 3800/3900/5000/2210 series)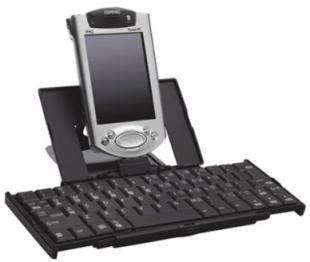 90% full size keyboard when opened
Size when opened flat 25cmx9cm (keyboard area 23.5cmx7.5cm)
Folds to the size of a Pocket PC (13cmx9cmx2cm) to fit in a pocket or case
Opens by a single latch
Low power consumption, 3V, below 1mA
Charge your iPAQ Pocket PC while using the keyboard through the power pass-through jack
The power is supplied by the iPAQ Pocket PC through a 22-pin connector. The Foldable Keyboard has a pass-thorough plug on the left side to accommodate an AC adapter for powering or charging the pocket PC while the keyboard is in use.
No battery required
Weight 190g - 15% lighter than the Targus model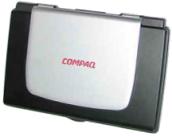 The smallest folding keyboard makes the iPAQ even more versatile. The HP-Compaq Foldable Keyboard provides the convenience of a near full size keyboard without jeopardising the portability and power of a HP-Compaq iPAQ Pocket PC. The Foldable keyboard has virtually the same key spacing as a standard desktop keyboard so it is comfortable to use.

It is light yet incredible sturdy and stable to type on. This combined with your iPAQ will still weight less than a third of the lightest laptop, and less than a sixth of the weight of a typical multimedia notebook.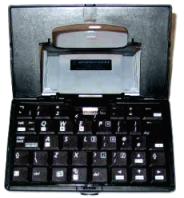 You can write e-mails and type full Microsoft Word documents quickly and easily wherever you are, then simply fold away the keyboard and put it in your pocket. Take it out on the train or plane and be more productive than your fellow travellers still stuck with slow and inaccurate handwriting recognition or mobile keypads.



Program specific keys include: Today, Go, Inbox, Word, Excel, Calendar, Tasks, Notes, Contacts, Ok, Off. UK specific keyboard includes the '£' key and the Euro symbol '€'.

Latest driver version - download from HP-Compaq

REVIEWS


---
To follow.
PRICING & OPTIONS


---
HP-Compaq Foldable keyboard for iPAQ 3800/3900/5000, £65.00, rrp £99.99, (MicroWarehouse £88.11+VAT=£103.53, Mobile Technology £81+VAT=£95.18, Expansys, £94) - [Buy now] or call us on 0870 766 3699

Refurbished and second user units also available at £49.00

You could also look at the slightly larger Targus stowaway keyboard.
ORDERING


---
Any questions prior to ordering? - then email: Sales, otherwise proceed to the Order Form.

If the online Order Form fails for any reason or your product is not yet listed there, or you wish to print and send your order, then fill in the following, hit the [Select details] button, and copy and paste to your email program or word processor:

Now hit Ctrl+C to copy the selected text to your clipboard and then paste (Ctrl+V) it into your preferred program
CONTACT DETAILS


---
Click here for full Contact Details including postal address, additional phone lines and technical support email.

Whilst we are based in the UK we can ship most items internationally.


RETURN TO
TOP OF PAGE

CLOSE
WINDOW

PRINT
PAGE

HOME
PAGE

TERMS AND
CONDITIONS

HELP ON USING
THIS SITE