| | | |
| --- | --- | --- |
| | Targus Stowaway Portable Keyboard for Compaq iPAQ | |
Targus Foldable Keyboard for the Compaq iPAQ
(compatible with all 3000 series iPAQs and now 5000 series)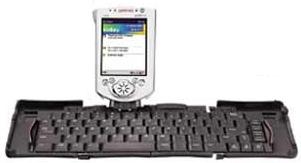 100% full size keyboard when opened
Size when opened flat 35cmx13cm (keyboard area 26cmx9cm)
Full 3mm downward key travel
Key spacing - Full 19mm pitch (space between keys), both horizontally and vertically (the same as desktop keyboards)
Folds to the size of a Pocket PC (13cmx9cmx2cm) to fit in a pocket or case
Unfolds automatically at the pop of a single button - James Bond style!
Exterior material made of glass-filled polycarbonate and aluminium for high durability
Weight 225g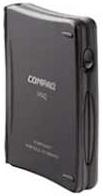 With the new folding keyboard, the iPAQ has just got better. Already giving you Internet, information, content, and access to your business and personal lives at any given time, in any given place, you can get your critical information onto the iPAQ with a touch of the keys. The Targus Stowaway keyboard provides the convenience of a full size keyboard with the portability and power of a Compaq iPAQ Pocket PC. The Stowaway has the same key spacing as a standard desktop keyboard so it is comfortable to use, plus, at only 225g it won't weigh you down. Realize the full potential of your Compaq iPAQ by writing e-mails and documents quickly and easily wherever you are, then simply fold away the keyboard and put it in your pocket.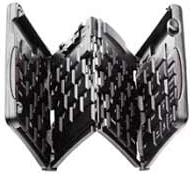 The keyboard also provides the ability to define hot keys that when selected, will link to your most common programs for increased productivity.

Program specific keys include: Today, Inbox/Notes, Contacts/Word, Calendar/Excel, Tasks/Money, Off. Short cut keys include the '£' symbol (Fn+P) and the Euro symbol (Fn+E).


REVIEWS


---
Two out of three Amazon customers rated it 4 out of 5, the other gave it 1 out of 5 because it wouldn't work on his 3870. Not without an adaptor anyway, which we have available free of charge.
PRICING & OPTIONS


---
Targus Stowaway keyboard for iPAQ, £85 inc VAT Buy

Targus/Think Outside adaptor Widget, £12.95 inc VAT Buy



For the Stowaway Keyboard to allow it to work on iPAQ 38xx and later. The original Stowaway Keyboard connects to IPAQ PDA 3600 & 3700 Series. This adapter will make your later model COMPAQ IPAQ PDA 3800, 3900 and HP IPAQ 5100, 5400, 5500, compatible with this keyboard. HP IPAQ Series 4100, 2200, 4300 will need to have some of the adapter plastic filed down to match the bottom contour of the PDA. Keyboard serial number should begin with "A4TU" to be compatible with this adapter.

Check out the Targus leather combo case that carries both your PDA and keyboard, £34.99 inc VAT Buy

If you have a Compaq iPAQ 3800 series or above you could also try the Compaq Foldable Keyboard. This is a smaller, lighter device, yet actually more sturdy. However, it does not fit the combo case above. When folded it is much thinner than the Targus keyboard and will more easily fit into a shirt or jeans pocket.
ORDERING


---
Any questions prior to ordering? - then email: Sales, otherwise proceed to the Order Form.

If the online Order Form fails for any reason or your product is not yet listed there, or you wish to print and send your order, then fill in the following, hit the [Select details] button, and copy and paste to your email program or word processor:

Now hit Ctrl+C to copy the selected text to your clipboard and then paste (Ctrl+V) it into your preferred program
CONTACT DETAILS


---
Click here for full Contact Details including postal address, additional phone lines and technical support email.

Whilst we are based in the UK we can ship most items internationally.


RETURN TO
TOP OF PAGE

CLOSE
WINDOW

PRINT
PAGE

HOME
PAGE

TERMS AND
CONDITIONS

HELP ON USING
THIS SITE