| | | |
| --- | --- | --- |
| | Think Outside Stowaway Bluetooth Keyboard for Compaq-HP iPAQ | |
Think Outside Stowaway Bluetooth Keyboard for the Compaq-HP iPAQ
(compatible with all Bluetooth series iPAQs and other PDAs/SmartPhones including Ericsson P900)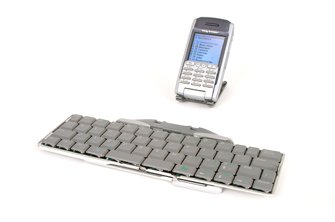 The Stowaway Bluetooth Keyboard is the perfect productivity companion to your smart phone, PDA, Tablet, Media Center PC or notebook – almost any device that has Bluetooth supports this hot new product! With its genuine full-size keyboard with 18 mm spacing, the Stowaway Bluetooth Keyboard allows you to quickly type email, memos, or surf the web in optimum comfort. The sleek, award winning, patented folding design is featured in the Design Collection at Museum of Modern Art in New York. Its unique design allows it to easily fit in a pocket or purse, so you can take it everywhere, yet opens to a full size keyboard when you need it. A lap-lock is included that allows the keyboard to be used on a lap – perfect for airports and other tight spaces! Symbols, and international characters are also supported making this the perfect on-the-go keyboard!

Write email and notes easily

Includes carrying case & detachable PDA / phone stand

Sleek, award winning design

100% full size keyboard for touch-typing

Truly universal - works with almost all Bluetooth enabled devices

Hassle free - Bluetooth technology removes the need for wires

Lightweight design; weighs less than 6 oz.

User programmable shortcut and command keys for fast access to other applications

Rugged polycarbonate construction for years of use

Rubber grip pads prevent keyboard from slipping while typing

18mm key spacing (horizontally and vertically)

3mm key travel - same as the best notebook computers

English QWERTY layout (4 rows of keys)

Dimensions

Closed: 5.5"H x 3.9"W x .5"D (139 mm x 99 mm x 13 mm)

Open: 9.9" x 5.8" x 0.5" (251 mm x 148 mm x 13 mm)

Weight: 5.6 oz. (160 grams)

Compatability

Works with most Bluetooth PDAs and smart phones

Pocket PC Devices with integrated Bluetooth:

iPAQ 1940, 1945, 2210, 2215, 4150, 4155, 4350 and 4355 series models, Series 3900 & 5000 are being tested;
Dell Axim X series models;
ASUS MyPal A620;
Any Pocket PC 2002 or Windows Mobile 2003 device with a Bluetooth SDIO or CF card;
Smart Phones:

Microsoft Windows Mobile 2003 or Symbian devices such as Orange, T-Mobile or O2, XDA II;
Nokia Series 60 Devices 3650, 3660, 6600 and N-Gage; 3600, 3620 & 6620 are being tested;
Siemens SX1;
Sony Ericsson P800 and P900;
Qtek 2020
(Note that Smart Phones may require a software download and/or a Bluetooth SDIO card.)
Computers:
Most tablet, notebook or desktop computers running XP SP1 or Mac OS X with Bluetooth communications.
Works with Microsoft and Logitech Bluetooth keyboard systems.
Also compatible with Bluetooth software stacks from Widcomm for Windows version 1.4 or greater and Drakar (Socket) Bluetooth Stack version 1.4.3 or greater and Microsoft Bluetooth Stack.
REVIEWS


---

Pocket PC Magazine, Editor's Hardware Pick, June 2004

PRICING & OPTIONS


---
Think Outside Stowaway Bluetooth keyboard for iPAQ, £99 inc VAT Buy

Targus/Think Outside adaptor Widget, £9 inc VAT Buy



For the Stowaway Keyboard to allow it to work on iPAQ 38xx and later. The original Stowaway Keyboard connects to IPAQ PDA 3600 & 3700 Series. This adapter will make your later model Compaq-HP iPAQ PDA 3800, 3900 and HP IPAQ 5100, 5400, 5500, compatible with this keyboard. HP IPAQ Series 4100, 2200, 4300 will need to have some of the adapter plastic filed down to match the bottom contour of the PDA. Keyboard serial number should begin with "A4TU" to be compatible with this adapter.

Check out the Targus leather combo case that carries both your PDA and keyboard, £34.99 inc VAT Buy

If you have a Compaq-HP iPAQ 3800 series or above you could also try the Compaq Foldable Keyboard. This is a smaller, lighter device, yet actually more sturdy. However, it does not fit the combo case above. When folded it is much thinner than the Targus keyboard and will more easily fit into a shirt or jeans pocket.
ORDERING


---
Any questions prior to ordering? - then email: Sales, otherwise proceed to the Order Form.

If the online Order Form fails for any reason or your product is not yet listed there, or you wish to print and send your order, then fill in the following, hit the [Select details] button, and copy and paste to your email program or word processor:

Now hit Ctrl+C to copy the selected text to your clipboard and then paste (Ctrl+V) it into your preferred program
CONTACT DETAILS


---
Click here for full Contact Details including postal address, additional phone lines and technical support email.

Whilst we are based in the UK we can ship most items internationally.


RETURN TO
TOP OF PAGE

CLOSE
WINDOW

PRINT
PAGE

HOME
PAGE

TERMS AND
CONDITIONS

HELP ON USING
THIS SITE