Language Labs 2000 - Italian
Details and specifications of Language Labs 2000 - Italian, £19.99. Learn to speak Italian like a native, with this innovative program!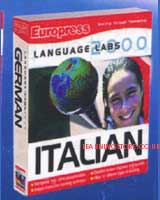 Language Labs 2000 - Italian

Language labs 2000 is the latest version of Europress' best selling language series of CD-ROMs. It features an enhanced interface with a clean 3D look and icon driven navigation for ease of use. The new interface also breaks down the 12 run modes into skill sets of listening and reading; listening; writing and speaking and speech recognition so students can easily tailor activities to their own particular needs.

The new speech recognition feature provides a voice recording facility which produces unique on screen voice prints which allow pupils to compare their pronunciation with that of native speakers, replicating the same pitch, emphasis and intonation. Not only does this 'say it and see it' feature allow students to speak more fluently, it is also useful in languages where changing the pitch of pronunciations actually changes the meaning of the word.

Language labs 2000 programs are designed for entry level learners of any age. They are based on the constant association of the spoken and written word with the images - the natural method by which we all learn our native tongue.
features unique on-screen a voice prints to improve pronunciation
uses the successful and natural approach to language learning
offers 12 different learning styles to suit the students preference
new interface makes it easier to navigate around the programme
has dictation feature to improve writing skills
improves retention skills with unique delay option
includes over 800 words and phrases in more than 200 exercises
comprehensive browse feature lets you access content of each exercise
impeccable world-wide pedigree from the Rosetta Stone language libraries.
SCREENSHOTS


---
Use you back button to return to this page after viewing the screenshots.

Screenshots
REVIEWS


---
None available
VERSIONS


---
Language Labs 2000 - Italian, £19.99

Also available in:
Language Labs 2000 English
Language Labs 2000 French
Language Labs 2000 Spanish

Compare also:
IMSI Easy Language 25

SYSTEM REQUIREMENTS


---
PC CDROM
Pentium 75 (133 rec),
16Mb RAM (24Mb rec) 32Mb for NT4,
26Mb free hard drive space,
Windows compatible soundcard,
640x480x256 colours,
Windows 95/98/ME/XP Home.
Speech recognition feature requires Pentium 100 or better and microphone - not provided
PRICING


---
Language Labs 2000 - Italian, £19.99


Prices include 17.5% VAT

Email to check latest pricing or stock availability

Check Exchange Rates to convert UK pricing
Postage, Packing & Insurance Rates
1
UK light items (2nd class)
£3 (GBP)
2
UK light items insured (1st class) Any orders over £100
Customers may choose this rate on light items under £100 to speed delivery
£6 (GBP)
3
UK heavy items parcelpost
UK light items next day guaranteed
Europe light items
£9 (GBP)
4
World surface mail
£12 (GBP)
5
Europe heavy items
£15 (GBP)
6
UK heavy items next day guaranteed
World airmail
£18 (GBP)
If you require the outer packaging of your order to be intact for a gift then please add this to any special instructions as normally excess weight is removed before despatch to increase chances of a standard letter box delivery, and thus not require you to wait in to receive your order. Minimum P&P on fully boxed orders is £6
ORDERING


---
Any questions prior to ordering? - Then Email: sales@bmsoftware.com

To order, use the online

If the online ORDER FORM fails for any reason or your product is not yet listed there, or you wish to print and send your order, then fill in the following, hit the Select details button, and copy and paste to your email program or word processor:

Now hit Ctrl+C to copy the selected text to your clipboard and then paste (Ctrl+V) it into your preferred program
CONTACT DETAILS


---
Click here for full Contact Details including postal address, additional phone lines and technical support email.

Whilst we are based in the UK we can ship most items internationally.


| | | | | | | | |
| --- | --- | --- | --- | --- | --- | --- | --- |
| | RETURN TO TOP OF PAGE | | CLOSE WINDOW | | PRINT PAGE | | HOME |