Language Labs 2000 - English
Details and specifications of Language Labs 2000 - English, £19.99. Learn to speak English like a native, with this innovative program!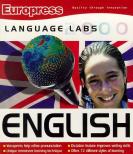 Language Labs 2000 - English

This program will help you speak English like a native thanks to its on-screen voiceprints that let you see the way you speak. When you record words, they are shown on screen as a voiceprint which gives a graphical representation.

This shows three different aspects of pronunciation - pitch, emphasis and form. You can then improve your pronunciation by comparing your voiceprint with that of a native speaker saying the same words.

With a new, easy-to-use interface, the program comes from The Rosetta Stone language courses which have a worldwide reputation for their innovative teaching methods.

Tuition is conducted purely in the target language and follows the natural method of constant association of spoken and written words with pictures.


SCREENSHOTS


---
None Available
REVIEWS


---
None available
VERSIONS


---
Language Labs 2000 - English, £19.99

Also available in:
Language Labs 2000 French
Language Labs 2000 Italian
Language Labs 2000 Spanish

Compare also:
Eurotalk - Learn English Now
Eurotalk - Learn English
SYSTEM REQUIREMENTS


---
PC CDROM
Pentium 75 (133 rec),
16Mb RAM (24Mb rec) 32Mb for NT4,
26Mb free hard drive space,
Windows compatible soundcard,
640x480x256 colours,
Windows 95/98/ME/XP Home.
Speech recognition feature requires Pentium 100 or better and microphone - not provided
PRICING


---
Language Labs 2000 - English, £19.99


Prices include 17.5% VAT

Email to check latest pricing or stock availability

Check Exchange Rates to convert UK pricing
Postage, Packing & Insurance Rates
1
UK light items (2nd class)
£3 (GBP)
2
UK light items insured (1st class) Any orders over £100
Customers may choose this rate on light items under £100 to speed delivery
£6 (GBP)
3
UK heavy items parcelpost
UK light items next day guaranteed
Europe light items
£9 (GBP)
4
World surface mail
£12 (GBP)
5
Europe heavy items
£15 (GBP)
6
UK heavy items next day guaranteed
World airmail
£18 (GBP)
If you require the outer packaging of your order to be intact for a gift then please add this to any special instructions as normally excess weight is removed before despatch to increase chances of a standard letter box delivery, and thus not require you to wait in to receive your order. Minimum P&P on fully boxed orders is £6
ORDERING


---
Any questions prior to ordering? - Then Email: sales@bmsoftware.com

To order, use the online

If the online ORDER FORM fails for any reason or your product is not yet listed there, or you wish to print and send your order, then fill in the following, hit the Select details button, and copy and paste to your email program or word processor:

Now hit Ctrl+C to copy the selected text to your clipboard and then paste (Ctrl+V) it into your preferred program
CONTACT DETAILS


---
Click here for full Contact Details including postal address, additional phone lines and technical support email.

Whilst we are based in the UK we can ship most items internationally.


| | | | | | | | |
| --- | --- | --- | --- | --- | --- | --- | --- |
| | RETURN TO TOP OF PAGE | | CLOSE WINDOW | | PRINT PAGE | | HOME |