Details and specifications on: Globalink / L&HSP Power Translator Pro 7, £99.95 (although we will match or beat any UK advertised price) - 5-way European + Japanese language translation program. We now have fresh supplies of this previously hard to source translation software. This page contains details specifically on the Japanese to/from English attributes to see more general information on its European translation capabilities, click here.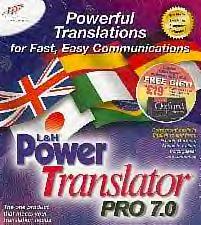 Globalink / L&H Power Translator Pro 7 produces draft translations of foreign language documents, e-mail, Web pages and more. Integrates with Microsoft Office. It is a fully-featured tool for translating text in:
French to/from English
German to/from English
Italian to/from English
Portuguese to/from English
Spanish to/from English
Japanese to/from English
French to/from German
Italian to/from French
Italian to/from German
Italian to/from Spanish
Based on 32-bit Barcelona technology, giving sentence-by-sentence translation from idiomatic databases.

Includes industry specific subject dictionaries (Business, Computing, Legal, Medical) and the ability to add and amend dictionary entries.

Also includes a 40 language word dictionary and a 36 language phrasebook.

Voice commands and text-to-speech reading.

Add-in to Microsoft Word/Excel/Outlook/PowerPoint, and Corel WordPerfect toolbar for quick translation.

International Proofreader.

ReadIRIS OCR - Use this software to scan in documents in over 50 languages.

Unlike the English language, Japanese is written with three related sets of characters. These character sets are called hiragana, katakana, and kanji.

Hiragana
Are the set of 46 phonetic symbols that represent the syllables in Japanese. Hiragana are used for verb endings, personal names, and generally when neither of the other characters are appropriate. You use your standard U.S. keyboard to enter hiragana. By typing b-a, for example, the hiragana character for ba will appear. See the explanation of the Front End Processor (FEP) below for more details. Katakana


A mirror phonetic representation of the 46 hiragana. These more block-like versions of hiragana are used for words of foreign origin, for scientific words, and for many company names. You enter katakana in an identical way to the way you enter hiragana. See below for more information. Kanji


The set of around 2000 "pictograph" characters that represent meaning, as opposed to phonetic sound. These characters are used at the beginning of verbs, in personal, family and place names, as well as for general vocabulary. Using the Front End Processor (FEP), you can enter kanji phonetically (see below) as the Japanese do using your normal English keyboard. If you are not familiar with kanji, or do not know the way kanji are read, you can use the unique Kanji Entry System, which allows you to enter a kanji based on its appearance.

Japanese Translator allows you to enter all three of these types of characters using the built-in Front End Processor (FEP). This allows you to enter any character that occurs in the modern Japanese language (some older "spellings" of archaic kanji characters are not supported.).

You use the Front End Processor (FEP) to enter Japanese into the Japanese window, Combination window, and other parts of dialog boxes that require Japanese text.

You can get Japanese text into Japanese Translator in one of three ways:
Import a Japanese text file by choosing File | Import Text File...
Copying Japanese text from the clipboard
Typing in Japanese text yourself using the FEP

L&H's translation products come equipped with its own FEP, which allows you to enter Japanese. Japanese Translator has two modes: English "US Flag" Mode, and Japanese "Japan Flag" Mode
Entry Modes:

English "US Flag" Mode (default)

Japanese "Japan Flag" Mode

By default, the English button is depressed. This means any characters you type at the keyboard will be entered as-is into the translation windows, in English.

The Front End Processor is activated when the small Japanese flag button on the toolbar is in Japanese "Japan Flag" mode.

There are two ways to change Entry Modes:
Click on the flag of the target language
Press Ctrl + [space]

Once the Entry Mode is set to Japanese, you are ready to enter Japanese text.
Japanese Character Table Window

Pressing Shift + [space] from the FEP Window opens the Japanese Character Table Window. Using the character table you can point-and-click to enter either hiragana,katakana, kanji, or even symbols without entering their phonetic spellings.

Character Table

SCREENSHOTS


---
None Available
REVIEWS


---
None available
VERSIONS


---
Globalink / L&H Power Translator Pro 7, £99.95 is available in a combined package containing the six language pairs outlined above.
Compare also:
Transparent Language - Desktop Translator £79 For more informatoin on the European language capabilities of this product or to compare alternative translation software packages click here
We also stock Japanese typing add-ons for Word Processors.
SYSTEM REQUIREMENTS


---
Pentium® 166 PC or higher
48 MB RAM
Windows® 98/95 or Windows NT® (version 4)
130 MB hard disk space plus 15-100 Mb per language pair
CD-ROM drive
For L&H Web Translator™ (included), access to the Internet is required using Netscape Navigator® (v. 3.0 or higher) or Microsoft Internet Explorer (v. 3.0 or higher)

PRICING


---
Globalink / L&H Power Translator Pro 7 , £99.95


Prices include 17.5% VAT

Email to check latest pricing or stock availability

Check Exchange Rates to convert UK pricing
Postage, Packing & Insurance Rates
1
UK light items (2nd class)
£3 (GBP)
2
UK light items insured (1st class) Any orders over £100
Customers may choose this rate on light items under £100 to speed delivery
£6 (GBP)
3
UK heavy items parcelpost
UK light items next day guaranteed
Europe light items
£9 (GBP)
4
World surface mail
£12 (GBP)
5
Europe heavy items
£15 (GBP)
6
UK heavy items next day guaranteed
World airmail
£18 (GBP)
If you require the outer packaging of your order to be intact for a gift then please add this to any special instructions as normally excess weight is removed before despatch to increase chances of a standard letter box delivery, and thus not require you to wait in to receive your order. Minimum P&P on fully boxed orders is £6
Order direct from BMSoftware
ORDERING


---
Any questions prior to ordering? - Then Email: sales@bmsoftware.com

To order, use the online

If the online ORDER FORM fails for any reason or your product is not yet listed there, or you wish to print and send your order, then fill in the following, hit the Select details button, and copy and paste to your email program or word processor:

Now hit Ctrl+C to copy the selected text to your clipboard and then paste (Ctrl+V) it into your preferred program
CONTACT DETAILS


---
Click here for full Contact Details including postal address, additional phone lines and technical support email.

Whilst we are based in the UK we can ship most items internationally.


| | | | | | | | |
| --- | --- | --- | --- | --- | --- | --- | --- |
| | RETURN TO TOP OF PAGE | | CLOSE WINDOW | | PRINT PAGE | | HOME |