| | | |
| --- | --- | --- |
| | Transparent Language - Learn Latin Now! v9 | |
Details and specifications on: Transparent Language - Learn Latin Now! V9, £49. Learn to listen, read and write Latin with this interactive multimedia language learning software. Contains free microphone and multilingual word processing software worth over £100. Now contains a bonus CD with GrammarPro (RRP £29.99) and Unitype Global Writer (RRP £116) for free! [Buy now] or call us on 0870 766 3699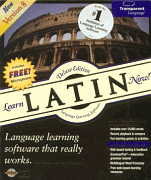 Transparent Language - Learn Latin Now v9

Unlike other language learning methods, Latin Now!, is uniquely effective. Right away you'll find yourself in a compelling, interactive environment where learning authentic Latin is made easy.

With Latin Now!, you'll learn by immersing yourself in Latin You'll read and listen to interesting articles and stories, all in the original Latin Engaged in this rich multimedia experience, you may never feel like you're studying, and the fact that you are actually using Latin becomes transparent.

Experts agree, learning a new language requires frequent, successful experiences. Only Latin Now! is designed to provide the rich, rewarding experiences that build maximum comprehension.

Learn to speak, Listen, read & write
Latin Now! covers the four language skills you need to use Latin as you learn to speak Latin , you will also learn to listen, read and write. Use all of the activities, tests, exercises and tools to improve all of your language abilities, or focus your efforts on any individual skill!

Easy Build Pronunciation Skills
With Latin Now!, you'll hear how words are pronounced, see the spelling discover word meanings and actually hear yourself speaking. In no time, you'll be confidently using spoken Latin .

Perfect for both beginner & Advanced speakers
From basic skills to a mastery of Latin it's all here. The word games, grammar tools and vocabulary building activities provide a solid foundation. As you advance, authentic Latin content lets you hone your Latin .

Proven Effective
Language Now!'s unique methodology results in full comprehension of Latin . That's why it is used in over 10,000 educational institutions. Independent studies have shown that Language Now!'s unique multimedia approach provides a more effective learning experience than books, tapes and even classroom methods. It Works!

Features:

Over 10,000 words
Hundreds of useful phrases
Fully integrated pronunciation
Record, playback and compare
Advanced pronunciation analysis
Slow sound to hear every nuance
Alphabet reference
Word dictation
Grammar tutorial
Word and root search
Vocabulous!, crosswords, and more interactive games
On line testing
Personal progress tracking
........Plus much more!

SCREENSHOTS


---
Screenshot 1
SYSTEM REQUIREMENTS


---
Windows 95/98/2000/NT 4.0
486 25Mhz Processor
16MB Ram
2X CD-ROM
35MB free HD space
16-bit PCI/AGP Graphics Card
16-bit Sound Blaster compatible Sound Card with Speakers
Standard Keyboard & Mouse
256 Colour Monitor supporting high colour(16-bit) at 640x480 resolution
Mircophone required for recording.(Provided Free in Pack)
Browser and internet connection required to link to online quizzes.
Apple MAcintosh OS Version 7.1 or higher
68040 PowerPC Processor
4xCD-ROM
16MB RAM.
100MB Free HD space
640x480 256 colours Graphics Card
Built in sound or sound manager
3.1 compatible sound card and speakers
Color Monitor supporting thousands of colours at 800x600 resolution
Standard Keyboard & Mouse
Free Microphone provided
Optional:-
Scanner, Printer, Digital Camera
14.4 Kbps or faster modem for Internet connectivity
VERSIONS, OPTIONS & ALTERNATIVES


---
| | | | | | |
| --- | --- | --- | --- | --- | --- |
| Transparent Language | Learn Latin Now | £49 | (RRP £49.99) | [TLLLAT] | Buy | |

Also available in 15 other languages including: Arabic, Chinese, Dutch, English, French, German, Hebrew, Irish, Italian, Japanese, Latin, Polish, Portuguese, Spanish, Swedish

Compare also:


| | | | | | | |
| --- | --- | --- | --- | --- | --- | --- |
| Eurotalk | Asterix Learn Latin | £29 | (RRP £29.99) | [ETASLL] | Buy | | View |
| Eurotalk | Talk Now! Learn Latin | £24.99 | (RRP £24.99) | [ETLLAT] | Buy | | View |
PRICING


---
| | | | | | | |
| --- | --- | --- | --- | --- | --- | --- |
| Transparent Language | Learn Latin Now | £49 | (RRP £49.99) | [TLLLAT] | Buy | | View |
Prices are in £GBP and include all applicable taxes (VAT etc)

P&P will be charged at "light items" rates
(Some valuable items may have to go special delivery and packages may have outer packaging or inner boxing removed to save weight, if this is a gift or for resale please request intact boxes)

See our full Postage & Delivery Details including shipping rates within the UK, Europe and worldwide, first class and next day before 9 AM and 12 Noon, same day options.

Email to check latest pricing or stock availability

Check Exchange Rates to convert UK pricing or Email us with your country and/or currency for a quote.


ORDERING


---
Any questions prior to ordering? - then email: Sales or call us on 0870 766 3699, otherwise proceed to the Order Form.

If the online Order Form fails for any reason or your product is not yet listed there, or you wish to print and send your order, then fill in the following, hit the [Select details] button below, and copy and paste to your email program or word processor:

Now hit Ctrl+C to copy the selected text to your clipboard and then paste (Ctrl+V) it into your preferred Email program or click here to launch your Email editor.
CONTACT DETAILS


---
Click here for full Contact Details including postal address, additional phone lines and technical support email.

Whilst we are based in Norwich, Norfolk in the UK we can ship most items internationally.


RETURN TO
TOP OF PAGE

CLOSE
WINDOW

PRINT
PAGE

HOME
PAGE

TERMS AND
CONDITIONS

HELP ON USING
THIS SITE